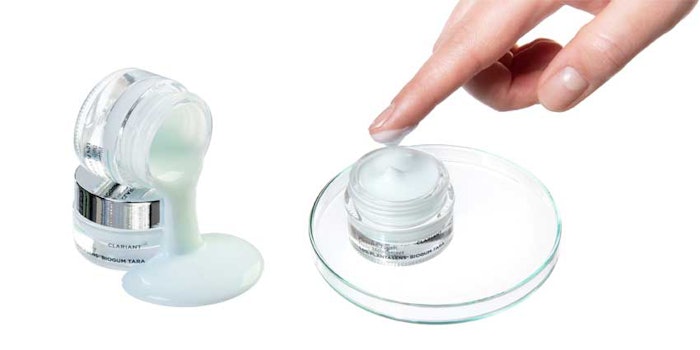 Clariant
Clariant and Polygal AG have partnered to produce natural and readily biodegradable solutions for sensory and rheology modification.
Related: Clariant's Celyscence from Milk Thistle Targets Cellular Senescence
The partnership focuses on developing natural rheology modifiers to support skin care products with smaller carbon footprints and enhanced biodegradability.
With this partnership, Clariant has expanded its Plantasens natural portfolio with the ethical-label-compatible Plantasens Biogum Tara (INCI: Caesalpinia Spinosa (Tara) Gum), a natural rheology modifier. This ingredient has a 100% renewable carbon index (RCI) and improves the consistency and texture of natural skin care formulations.
According to the company, this ingredient compares well to natural benchmarks due to its thickening power and light, non-stringy texture, which overcome the traditional drawbacks of formulating with natural rheology modifiers.
Plantasens Biogum Tara reportedly avoids low viscosity, stringiness and an unpleasant feel while achieving smoothness in look and a pleasant touch in applications such as natural leave-on skin care creams, lotions and masks.
Additionally, this active was reportedly had 5x higher viscosity at a 1% use level when compared with xantham gum. Formulation stability over a wide pH range is not compromised, per Clariant.
"This new partnership will be an exciting force in empowering natural cosmetic formulations," said Fabio Caravieri, global marketing segment leader personal care at Clariant. "Renewable-based ingredients are key but effectiveness is crucial to their acceptance. With Polygal, we are looking forward to challenging common obstacles to formulate with naturals. Strengthening Clariant's natural portfolio over the coming years with plant-derived, readily biodegradable ingredients that combine excellent performance with superior sustainability. We want to equip formulators with both the inspiration and the tools to make the switch from synthetic formulation staples to naturals an easier step to take."
"Polygal AG has wide-ranging expertise in research and utilization of vegetable hydrocolloids and natural polymers in industrial and food applications," added Simon Diezi, technical director of Polygal AG. "Our comprehensive portfolio successfully supports customers in keeping up with consumer trends. We are thrilled that through our partnership with Clariant and their expertise in skin care formulation, we'll help their teams explore and overcome barriers to the use of renewable, biodegradable raw materials in cosmetics."
Previously: Clariant's Ethience Boosts Skin Barrier Function