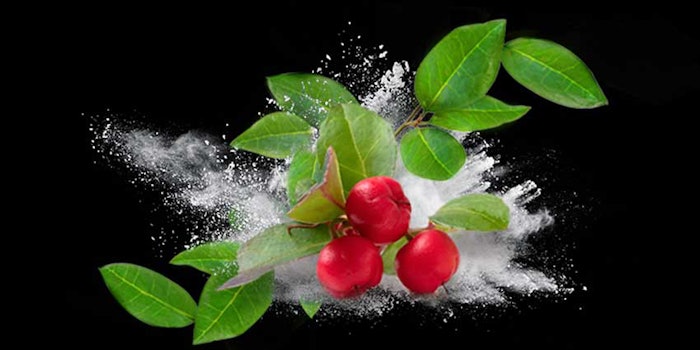 Givaudan Active Beauty
Givaudan Active Beauty has launched Neosalyl (INCI: Not Provided), a 100% natural, organic and pure salicylic acid for the skin and scalp whose efficacy matches synthetic alternatives.
Related: Givaudan's Vegan New Red 1805 Pigment
According to the company, along with hyaluronic acid and retinol, salicylic acid is one of the most known ingredients by consumers who are looking for enhanced performance to take care of skin and hair. To develop the ingredient, Givaudan extracts natural essential oil from wintergreen sourced from Southwest China in the Yunnan province.
The extract comprises methyl salicylate, and with the help of phyto-experts, it is put through a green fractionation process to transform the methyl salicylate into Neosalyl. This brings all the benefits of the wintergreen plant into Neosalyl's dermo-purified form for skin care, where it imparts a youthful shine, and hair care, for anti-dandruff activity.
To authenticate the raw material and its natural origin from wintergreen, the company's botanical experts apply a set of analyses named IDPack. These include botanical observation, DNA analysis, and GC/FID and isotopic 14C measurements to identify each botanical ingredient.
"Neosalyl is a safe and effective peeling agent for a large number of cosmetic purposes for skin care; such as exfoliation, anti-inflammatory and antimicrobial benefits," said Yohan Rolland, global category manager of Givaudan, who added its activity also suggests benefits for acne-prone skin. "As a strong keratolytic agent, Neosalyl is also a synergistic active for the treatment of dandruff."
In relation, the company's formulation team has crafted "S3D Powderful." This 11-ingredient "clean" beauty blend is a water-free formula that combines Neosalyl with powdered hyaluronic acid for skin immune defense reinforcement and wound healing. It also includes biodegradable exfoliating particles designed for sensitive skin. By adding a few drops of water to it, the product turns into foaming milk to apply to the face. After gently massaging into the skin and rinsing, it reveals cleaner skin and a brighter complexion.
For more information, contact Givaudan Active Beauty.