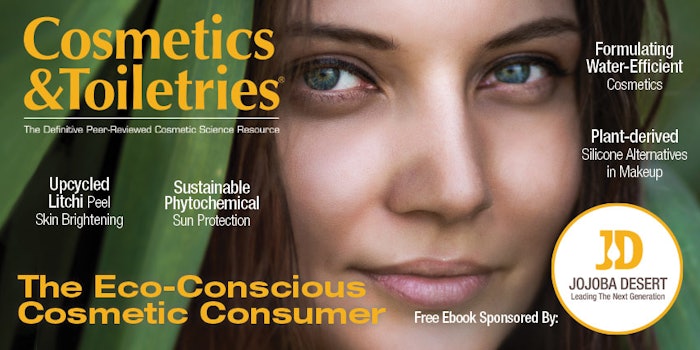 Natural cosmetics and personal care products have outgrown their origin story to become something greater. They represent a global consumer shift toward adopting healthier lifestyles, along with growing concerns about animal cruelty and environmental sustainability.
These consumers continue to turn to naturals, which is where sustainable, traceable and eco-friendly sourcing become critical. The ability to prove these claims adds another layer of complexity to the natural and eco-friendly product story.
See related: Jojoba Desert Earns EcoVadis Gold Medal
These considerations for natural and eco-friendly formulating are compiled in the free e-book before you. Sponsored by Jojoba Desert, it opens with a look at the eco-conscious cosmetic consumer, followed by featured articles on an upcycled litchi peel extract for skin brightening; phytochemicals with sun protection potential; plant-derived alternatives to silicones for color cosmetics; and water-conscious formulating.
In addition, the ingredient directory highlights natural, eco-friendly, biodegradable, etc., solutions for formulators. And the natural and eco-friendly formulary offers prototypes from Jojoba Desert to get your formulating juices flowing.
We hope the ideas planted here grow into something greater and support your product development efforts. Download it today; it's free.