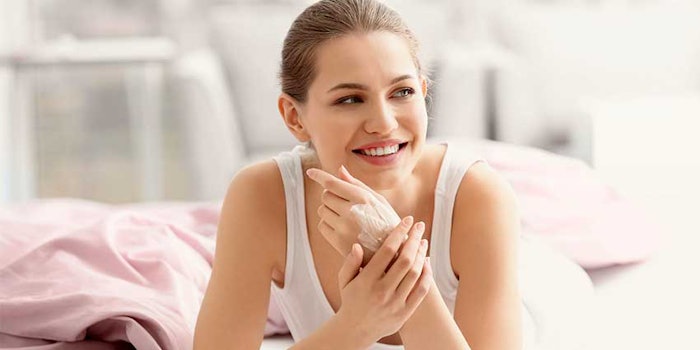 ID 115886479 © Chernetskaya | Dreamstime.com
This editor's pick features an anti-aging active from Rahn AG: Liftonin-Xpert Eco (INCI: Water (Aqua) (and) Pentylene Glycol (and) Mannan (and) Citric Acid).
As previously reported, this ingredient is an eco-friendly version of the company's original product, Liftonin-Xpert. It has been shown in vitro to stimulate the proliferation of fibroblasts and activate the production of collagen. In vivo, the product acts as a collagen filler and lifts the skin, among other benefits.
The following hand cream features the ingredient in a white o/w emulsion for anti-aging as well as moisturizing, soothing, regenerating and nourishing properties. It is recommended for hands or feet.
Premium Hand Cream
A.
Glycerin (and) Water (Aqua) (Glycerin 85%)
5.00
Sodium Polyglutamate (Gamma-MAX, BioLeaders Corp.)
0.10
Aloe Barbadensis Leaf Juice Powder (TN001CR Aloe Vera Powder 200x, Terry Laboratories, Inc.)
0.15
Glyceryl Caprylate
 (
Dermosoft GMCY
, Evonik)
0.30
B.
Glyceryl Stearate Citrate (Dermofeel GSC, Evonik)
2.00
Cetearyl Alcohol (Tego Alkanol 1618, Evonik)
5.00
Isoamyl Laurate (Dermofeel Sensolv, Evonik)
4.00
Caprylic/Capric Triglyceride (Myritol 312, BASF)
5.00
Theobroma Grandiflorum Seed Butter (Cupuacu Butter Refined, Laboratoires Expanscience)
1.00
Cetearyl Isononanoate (Tegosoft CI, Evonik)
1.00
Phenoxyethanol (and) Caprylyl Glycol
 (
Verstatil PC
, Evonik)
1.00
Xanthan Gum
 (Keltrol CG-SFT V, CP Kelco)
0.50
Cellulose (TEGO Feel C 10, Evonik)
2.00
Phytosteryl/Octyldodecyl Lauroyl Glutamate
 (Eldew PS-203 R,
Ajinomoto
)
0.30
C.
Fragrance (Parfum) (Perfume Vital N123, Huber the Nose)
0.50
D.
Water (
Aqua
) (and) Mannan (and) Pentylene Glycol (and) Citric Acid 
(Liftonin-Xpert Eco, Rahn AG)
2.00