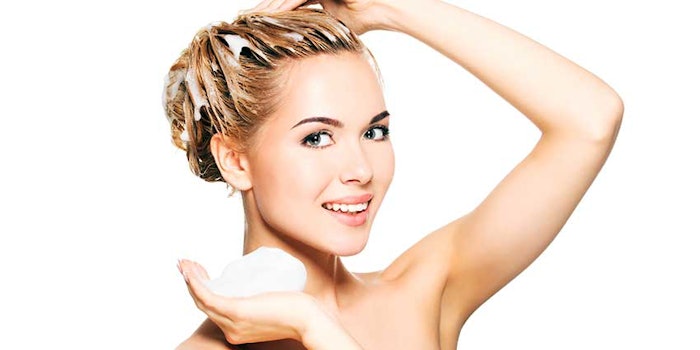 BASF Care Creations has launched Lamesoft Balance (INCI: Coco-Glucoside (and) Hydrogenated Castor Oil) for stabilization of rinse-off formulations, specifically for natural skin and hair care formulations.
Related: BASF, Isobionics Launch Sandalwood Alternative: Isobionics Santalol
Lamesoft Balance is derived from 100% natural feedstock and acts as a natural structure enhancer in surfactant-based systems, allowing formulators to stabilize wax-based opacifiers in rinse-off applications, even in low viscosity formulations.
Due to its composition of hydrogenated castor oil and APG (INCI: Not Provided), Lamesoft Balance is cold processable and easy to formulate. It prevents the aggregation of small particles and reduces the sedimentation speed of wax dispersions in surfactant systems, especially in those that can be micellar thickened. Opacifying wax dispersions create a lotion-like white look in formulations and provide skin and hair care benefits.
"The stabilization of fine particle wax dispersions in rinse-off formulations is often very challenging," says Hans-Martin Haake, Ph.D., head of market development hair, body, oral care at BASF Personal Care. "With Lamesoft Balance, BASF now offers a solution that is readily biodegradable and helps manufacturers of skin and hair cleansing products to stabilize their formulations without using synthetic polymers. The product is also suitable for alternative surfactant systems."
Performance and sensory tests have shown the ingredient enhances the foam properties in body wash formulations and provides a perceived pleasant skin feeling. In shampoo formulations containing cationic conditioning agents, Lamesoft Balance has reportedly proven to boost the hair conditioning effect.
Lamesoft Balance meets the requirements of EU Ecolabel, Nordic Ecolabel, Bra Miljöval and is suitable for natural formulation cosmetics according to both the COSMOS and the Natrue standard.
For more information, contact BASF.