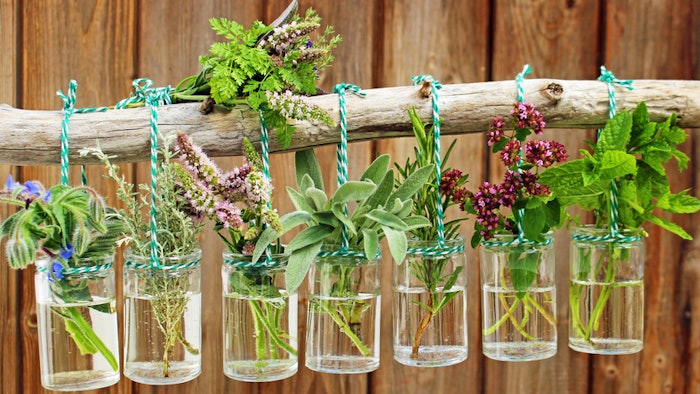 The global hair oil market is projected to witness a CAGR of 4.95% from 2022 – 2027.1 The pandemic lockdown pushed consumers to initiate self-care practices at home, making an overall positive impact on the hair oil market.
One of the major companies in the industry, Marico Ltd., even reported volume growth of 21% over a year earlier in June 2021.2 Consumers are specifically demanding products containing natural and organic ingredients, as that market is growing in popularity as well.3
Previously: Formulating on Trend: Acne Scarring — the Aftermath
In the summer, the scalp tends to produce too much sebum but the dry winter air may decrease sebum production. Due to this, working to keep the scalp moisturized is vital to preventing dandruff and/or an inflamed, itchy and flaky scalp. 
Aside from winter weather, hair washing consistency may also contribute to sebum production. Over washing and clarifying the scalp, combined with the dry weather that comes with winter, may cause the scalp to become excessively dry, creating discomfort. This may call for the use of hair oil, in addition to conditioners and gentle shampoos.4
In terms of oil, many ingredients are applicable and can contribute to preventing a dry scalp in winter. ​In addition, there has been a movement encouraging brands to create more innovative and versatile products; for example, a hair oil that not only aids in scalp health, but also provides hair loss protection, imparts shine and decreases frizz.5
When developing a hair oil, the formulator can choose a variety of ingredients depending on the desired treatment. The following outlines properties a hair oil may have and the relevant ingredients to achieve the desired effects.
Dry Scalp
When developing a hair oil to hydrate the scalp, it is important to ensure the formula is easily massaged in and absorbs well. Suggested ingredients, used individually or as a blend, include squalene, caprylic/capric triglyceride, Persea gratissima (avocado) oil, Carthamus tinctorius (safflower) seed oil, Simmondsia chinensis (jojoba) seed oil and Vitis vinifera (grape) seed oil.
Hair Growth
Hair loss can stem from a dry scalp. The oil-soluble ingredients below have reported hair growth properties and could prove effective in a formulation.
Arnica montana flower extract: Herbal cosmetics containing an extract from Arnica blossoms are said to have a favorable effect on the blood flow in peripheral vessels, an anti-inflammatory effect and a granulating and epithelizing effect on the tissue.6
Rosmarinus officinalis (rosemary) leaf oil: A study conducted in 2015 comparing rosemary oil and minoxidil found that after six months of use, a group treated with rosemary oil had more hair growth than the minoxidil group. This suggested rosemary oil may promote hair growth but only in the long term. In the same study, scalp-itching was more common in the group that received minoxidil, so rosemary oil is proposed as an alternative for people with a history of allergies or skin irritation.7
Hair Shine/Defrizzing
A well-balanced hair oil should allow the user to apply it to both the scalp and ends. Suggested options include Crambe abyssinica seed oil, Limnanthes alba (meadowfoam) seed oil, Caryocar brasiliense fruit oil and Pentaclethra Macroloba seed oil.
Conclusions
As noted, hair oil has become a vital part of the self-care movement as not only a part of a daily ritual, but also to treat the scalp and hair. This has driven growth in the market for hair oil and scalp treatments. Combining given oils and extracts can create a formulation with multiple functions, such as maintaining scalp health while also increasing hair growth and enhancing hair shine, to meet this growing demand.
References
1. Hair oil market size, share, growth: Industry report 2022 - 27. Hair Oil Market Size, Share, Growth | Industry Report 2022 - 27. (n.d.). Retrieved December 12, 2022. Available at https://www.mordorintelligence.com/industry-reports/hair-oil-market.
2. Dsouza, S. (2021, August 3). Marico Defies Second Covid Wave Slump. BQ Prime. Available at https://www.bqprime.com/business/marico-defies-second-covid-wave-slump
3. MarketWatch. (2022, November 21). Hair care oil market outlook, in-depth analysis, industry drivers, key trends, projections, and future opportunities for the period 2022 2028. MarketWatch. Available at https://www.marketwatch.com/press-release/hair-care-oil-market-outlook-in-depth-analysis-industry-drivers-key-trends-projections-and-future-opportunities-for-the-period-2022-2028-2022-11-20 
4. Cleveland Clinic. (2022, March 16). Your best strategies for beautiful hair in the winter. Cleveland Clinic. Available at https://health.clevelandclinic.org/your-best-strategies-for-beautiful-hair-in-the-winter/
5. Hair oil market size, share, growth: Industry report 2022 - 27. (Retrieved 2022, December 2). Hair Oil Market Size, Share, Growth | Industry Report 2022 - 27.  Available at https://www.mordorintelligence.com/industry-reports/hair-oil-market
6. Arnica oil CLR. Arnica Oil CLR by CLR Chemisches Laboratorium Dr. Kurt Richter GmbH - Personal Care & Cosmetics. (n.d.). Retrieved December 12, 2022. Available at https://www.ulprospector.com/en/na/PersonalCare/Detail/1381/45439/Arnica-Oil-CLR?doc=955792&st=1
7. Villines, Z. (2017, September 17). Rosemary Oil and hair growth: Research, effectiveness, and tips. Medical News Today. Available at https://www.medicalnewstoday.com/articles/319444#research