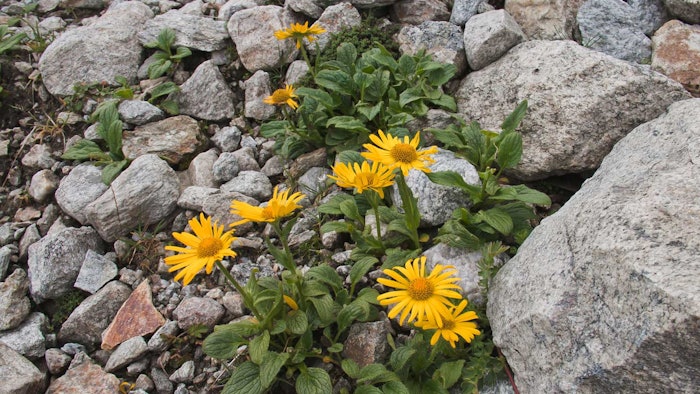 Editor's note: This article has been adapted with permission from our sister brand's, Skin Inc.'s, monthly column, "Jar Deconstructed." In it, the editors review research and commercial reports about an ingredient of interest, along with spa and professional products that apply the ingredient. The following is from the March 2021 issue.
Known by many names and for multiple purposes, arnica or Arnica montana, leopards-bane, wolfsbane, mountain tobacco, etc., is a flowering herb native to the mountains of Siberia and central Europe. Species of the herb also thrive in pastures and forests in the northern mountains of North American and Canada, including A. fulgens, A. sororia and A. cordifolia.1
According to Encyclopedia.com,1 the leaves were smoked by some as a substitute for tobacco, earning it the common name of mountain tobacco. Thanks to its bright yellow-orangish flower, it is also sometimes called the mountain daisy, as it looks like the familiar flower2—although it belongs to the genus of herbaceous plants in the sunflower family (Asteraceae).3 According to Wikipedia, the genus name Arnica may be derived from the Greek arni or "lamb," referring to the plant's soft, hairy leaves.
See archived: Expert Opinions; Dermocosmetics and Compromised Skin
Past and Present Uses
Since the 16th century, arnica has been used in folk medicine in North America, Germany and Russia.1 Reportedly, indigenous North Americans prepared a tea from its roots to ease back pain. The German writer Goethe credited arnica for bringing down a persistent high fever and saving his life. In Russia, arnica preparations were indicated to treat wounds, black eyes, sprains and contusions, and the herb itself for uterine hemorrhage, myocarditis, arteriosclerosis, angina pectoris, cardiac insufficiency and various other applications.1
According to WebMD,4 today, arnica is used for pain caused by osteoarthritis, sore throat, surgery and other conditions. Herbalists consider arnica a remedy for sprains, sore muscles and bruises—as such, its use is popular among individuals who have undergone surgery, especially plastic surgery.5 According Healthline, a 2006 study of patients who underwent a rhytidectomy (facelift) showed that homeopathic arnica significantly boosted healing, although other research has provided mixed results regarding its effectiveness.5 WebMD also reports uses for arnica such as for bleeding, bruising and swelling after surgery, but additionally underlines there is limited scientific evidence to support these uses.4
Adding a few drops of arnica tincture to warm water for a foot bath is said to relieve fatigue and soothe sore feet. Hair rinses prepared with the extract have been used to treat alopecia neurotica, an anxiety condition leading to hair loss; the homeopathic preparation is applied to relieve vertigo, hoarseness and even seasickness.1
In foods, arnica is incorporated as a flavor ingredient in edibles such as beverages, frozen dairy desserts, candy, baked goods, gelatins and puddings. In personal care, arnica has been included in hair tonics and anti-dandruff preparations, and its oils in perfumes and cosmetics, as the active constituents may reduce swelling, pain, and act as an antibiotic.4, 6
On a cautionary note, like many naturals, arnica can be toxic when ingested in large quantities; only highly diluted homeopathic preparations are considered safe for ingestion. In some individuals, arnica may also cause rashes and contact dermatitis due to its helenalin content. Prolonged exposure to this allergen has been reported to cause blistering, skin ulcers and surface necroses.1
Active Constituents and Applications
Several sources indicate that the primary active constituents in arnica are sesquiterpene lactones, in addition to flavonoids and volatile oils.7 German studies have further isolated the sesquiterpenoid lactones from arnica including helenalin and dihydrohelenalin, which show analgesic1 and anti-inflammatory1, 8 effects—the latter specifically by inhibiting the binding of transcription factors AP-1 and NF-B to DNA.7 In addition, arnica contains alkaloid, volatile oil, tannin and isomeric alcohol, including arnidio and foradiol.1
The anti-inflammatory as well as analgesic and healing properties of arnica were tested in a study published in Cutaneous and Ocular Toxicology.9 Here, the authors assessed the topical effects of Arnica montana after 3 hr of UVB exposure. Parameters for edema, oxidative stress and inflammatory reaction were assessed. Results showed arnica reduced the inflammatory response and ameliorated oxidative damage, increasing tissue antioxidant capacity.9
More recently, work published in Homeopathy explored the effects of Arnica montana on tissue formation and repair, which according to the authors, is a lesser-known area for arnica's potential application—compared with its known anti-inflammatory effects.10 Here, the extract significantly stimulated the expression of three genes that code for regulatory proteins in the extracellular matrix: fibronectin 1, low-density lipoprotein-receptor-related protein 1 and heparan sulfate proteoglycan 2. Among these, the fibronectin was expressed to the greatest extent. Results indicated Arnica montana has positive effects on cell adhesion and migration during tissue development and healing, suggesting its application to treat the extracellular matrix.
Personal care ingredient suppliers have utilized arnica's positive effects for cosmetics, too. One companya, for example, interestingly touts the benefits of arnica "for its anti-inflammatory, antibacterial and calming effects, post-tattooing."11 Anotherb highlights the analgesic and anti-inflammatory capabilities of arnica oil, making it an "ideal ingredient for use in formulations for massage and pain therapy."
Even consumers have become aware of arnica. In a September 2020 report, market research firm Social Standards noted that consumers in the 25 to 29 age group have taken an interest in "natural products and ingredients like orange blossom and arnica." The firm added this topic has experienced more talk on social media as "clean" skin care—including vegan, natural and/or plant-based products—has gained prominence.
In the Spa
Given arnica's ability to reduce inflammation and relieve pain, it is often found in spas as part of body treatments designed to help athletes and alleviate what hurts. At Spa Eastman in Eastman, Canada, you can find arnica oil in the Alpine Arnica Muscle Repair Treatment (60/90 min., $120/160), where it is combined with massage and steaming hot towels to soothe body tension. An arnica muscle gel is also used to relieve deep tension. Faina European Day Spa in New York combines arnica and ivy extracts in its Arnica Sports Massage (30/60 min., $80/120) to soothe sprains, muscle and joint pain.
The treatment massages these extracts into the body along with its Therapeutic Touch Massage Cream, and classic combinations of sports stretches, compressions and deep tissue work are used to restore mobility, vitality and body comfort. Arnica is tapped for its anti-inflammatory benefits in Flagstaff Face & Body's Arnica Body Wrap (90 min., $160). The wrap is said to hydrate and detoxify while reducing sore muscles and pain. Nouveau Day Spa in Kennewick, Washington uses arnica in its Arnica Muscle Relief Body Treatment ($160), which begins with a body scrub. A stimulating liniment rub and sports massage is then performed to target sore muscles and melt away the mental tension and stress of the day.
So, where can a spa find professional products with arnica to use in their treatments and sell in their retail? You don't need to look far, as this ingredient is incorporated into formulations by some of the best manufacturers in the industry.
Pevonia uses arnica in a few of its products, including the Soothing After Shaving Balm. Formulated to moisturize, decongest and desensitize after shaving, the balm helps calm, reduce redness and heal the skin. Arnica is included to soothe, reduce bruising, support wound healing and tighten. Christian Jurist, M.D., medical director of global education for Pevonia, furthered, "For centuries, Arnica montana has been recognized as a staple of natural healing by the general population and holistic medicine practitioners alike. Not without controversy and contraindications, its topical application is possibly one of the most effective ways to experience the benefits of this flower extract."
Arnica Therapy by Rhonda Allison is also designed to be used post procedure to soothe and cool the skin. Arnica provides antibacterial and anti-inflammatory benefits to this product, which helps to reduce inflammation, speed healing and decrease pain.
To calm facial skin, look to Éminence's Calm Skin Arnica Masque, which is formulated with calendula, ivy and arnica to help gently soothe hyperpig mentation and redness while reducing irritation. BiON uses arnica in a mask formulation with its Softening Repair Mask. In addition to a montmorillonite clay base, the formulation also includes arnica, titanium dioxide and vitamin E to calm redness, encourage skin repair and intensely hydrate the skin. Sothys aims to relax athletes with arnica in is Nutri-relaxing oil. The formulation includes camphor to stimulate, bisabolol to soothe, sacha inchi to restore barrier function and oily extract of arnica to soothe and relax.
Conclusions
Arnica has bloomed as an all-around remedy for various skin ailments, from inflammation and pain, to healing effects. Its presence is a vibrant addition to the skin care landscape.
a
Novaoil Arnica (INCI:
Arnica Montana
Flower Extract) is a product of Novachem.
b Organic Arnica Oil Extract (INCI: Helianthus Annuus Seed Oil (and) Arnica Montana Flower Extract) is a product of Praan Naturals.
References
All websites accessed on Jan. 25, 2021.
1. https://www.encyclopedia.com/plants-and-animals/plants/plants/arnica
2. https://www.healthline.com/health/pain-management/arnica#What-the-research-says
3. https://en.wikipedia.org/wiki/Arnica
4. https://www.webmd.com/vitamins/ai/ingredientmono-721/arnica
5. https://www.healthline.com/health/pain-management/arnica#What-the-research-says
6. https://medlineplus.gov/druginfo/natural/721.html
7. https://www.sciencedirect.com/topics/pharmacology-toxicology-and-pharmaceutical-science/arnica-montana
8. https://www.mskcc.org/cancer-care/integrative-medicine/herbs/arnica
9. https://www.tandfonline.com/doi/abs/10.1080/15569527.2020.1743998
10. http://www.paolobellavite.it/files/322_2020-HomeopathyFN1Arnica_1zchz70u.pdf
11. https://www.cosmeticsandtoiletries.com/formulating/function/antiirritant/Nature-sourced-Ingredients-for-Tattoo-After-care-500410471.html