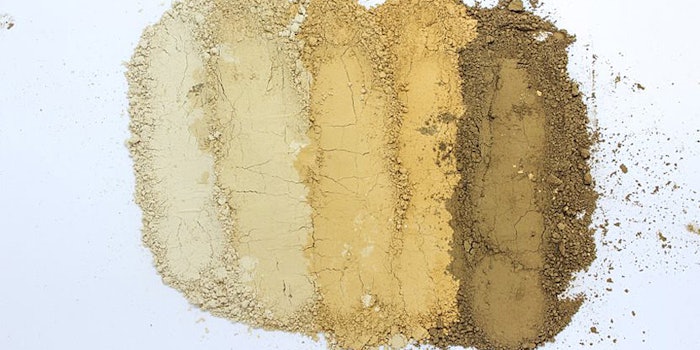 Beraca Natural Ingredients has debuted Berashades (INCI: Not Provided), a palette of five shades of naturally colored and sustainable clays for cosmetic use—Ivory, Beige, Bronze, Caramel and Ebony—all of which can be mixed and matched, and customized with more than 3,000 color combinations to match different skin tones.
Previously: Beracare CBA Bears Alternative to CBD
The actives meet vegan and multifunctional claims. They also allow coverage for a more natural appearance and matte effect, in addition to stable color resulting from a simultaneous micronization process. As a mineral ingredient, the actives also offer detoxifying and a remineralizing effect.
Additional properties of the actives include:
cruelty-free;
detoxifying as the phyllosilicates present in clays naturally filter impurities;
softer particles;
no added TiO2; and
China compliant and International Certification For Life.
Applications include:
Makeup: Mascara, foundation, concealer, compact powder, tanning powder, contour palettes.
Hair care: Powdered or dry colored shampoo, root retouch.
Skin care: Tanning oil, cream and moisturizer, BB cream, CC cream.
Efficacy Testing
In a TEWL test to study skin barrier protection, it was observed there was a reduction of TEWL, ensuring skin integrity and hydration. After 4 hr of Berashades applied at 10% in a liquid formulation, there was a decrease of TEWL in 21% with the active group when compared with Basal.
Recently: Clariant Acquires Remaining Stake in Beraca
Additionally, in a cytometer test to study skin firmness, there was improved firmness after seven consecutive days. 
Berashades Mixer
The company is also launching an online tool, the Berashades Mixer, which is a digital platform that allows formulators to create their own shades with simultaneous access to different levels of benefits delivered by the ingredient such as hydration, skin barrier function and firmness. This technology is aimed to assist professionals with scientific precision in each of the tones created.