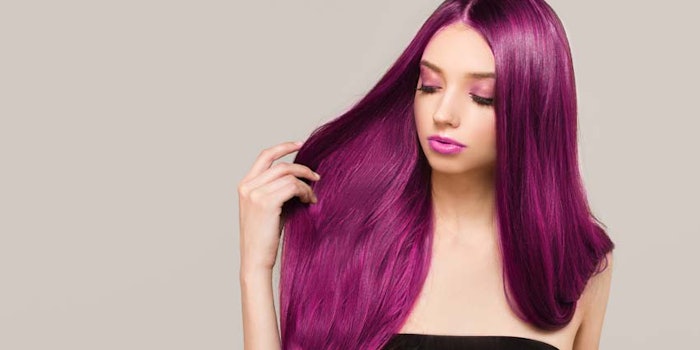 Angus Chemical Co. has introduced its DL-2AP Ultra PC (INCI: Aminopropanol) alkalizer for hair colorant systems.
The product reportedly was designed to respond to growing market demand for alternatives to commonly used alkalizing agents, such as monoethanolamine (MEA) and ammonia. DL-2AP is the latest addition to the company's portfolio of high-purity Ultra PC-grade multifunctional amino alcohols for personal care and cosmetic applications.
See related: Color Developments; Advances in Hair Dye Within the Last Decade
Based on Angus's proprietary nitroalkane chemistry, the product complies with the industry's most stringent standards for product purity as well as secondary amine and nitrosamine content. DL-2AP Uultra PC is minimum 99% pure with a high base strength and low molecular weight, making it well-suited for permanent and demi-permanent hair colorants, the company reports. Formulations with DL-2AP Ultra PC were shown to provide excellent color lift, color deposition and wash fastness.
"In laboratory evaluations, permanent hair colorant systems formulated with DL-2AP Ultra PC showed excellent lifting performance, as well as color deposition and fastness comparable to ammonia and MEA," said Mrunalini Dhamdhere, global technical manager, Angus Home and Personal Care. "In hair treated with colorants using Angus chemistries, we also saw reduced protein loss and morphological damage compared to colorants using ammonia and MEA, especially after multiple treatments."
"Consumers want products that provide efficacy and ease of use, along with additional benefits, such as reduced damage, and conditioning," added Laurie Marshall, Global Business Manager, Angus Home and Personal Care. "DL-2AP Ultra PC offers manufacturers a unique formulating tool with a more favorable environmental profile, superior biodegradability and lower odor than other chemistries on the market. It also helps colorant formulators produce the vibrant, natural-looking colors that keep consumers coming back for more."
See also: Clinging to Color; Isopentyldiol Boosts Brightness in Dyed and Damaged Hair