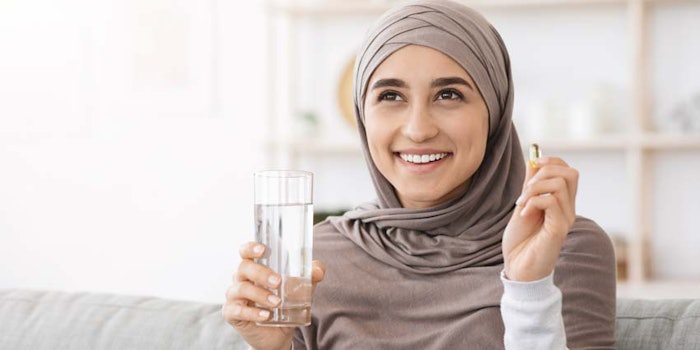 ResearchandMarkets reports the global health and wellness market is witnessing healthy growth; it is expected to register a CAGR of ~4% from 2020 to 2025.
With heightened interest on self-care and health—and time during quarantine to reflect on oneself—it's no wonder why consumers are focused on well-being of the body, mind and spirit. Within this market, important aspects include personal care/beauty, nutrition, weight management, fitness, preventive/personalized medicine, etc. In relation, this brief literature review highlights five recently published papers where these fields converge: nutricosmetics. 
Oral Intake of Hydrangea Leaves for Anti-aging Benefits
Myung, D.-B., Lee, J.-H., ... Lee, K.T., et al.; Nutrients; https://doi.org/10.3390/nu12061588
These authors previously reported that a hot water extract of Hydrangea serrata leaves (WHS) and its active component, hydrangenol, demonstrated in vitro and in vivo anti-aging and moisturizing effects. This clinical study (n = 151) examined the effects of orally ingested WHS on human skin. Subjects received either 300 mg WHS, 600 mg WHS or a placebo once daily for 12 weeks. Compared with the placebo, skin wrinkles and other skin parameters, e.g., elasticity, were significantly reduced in both WHS groups after 8 and 12 weeks.
MSM Supplement Improves Wrinkles, Elasticity and Hydration in Skin
Muizzuddin, N. and Benjamin, R.; International Journal for Vitamin and Nutrition Research; https://doi.org/10.1024/0300-9831/a000643
According to these authors, methylsulfonylmethane (MSM) is a nutritional supplement that is gaining popularity for the support of hair, skin and nail health. This study explored the effects of MSM on skin. A two-step study was conducted. For Part I, 20 participants ingested 3 g/day of capsules containing either MSM or placebo for 16 weeks. Visual and subject self-assessment were made. In Part II, 63 participants ingested either 1 g or 3 g/day of MSM for 16 weeks. Expert clinical grading, instrumental measurements and consumer perception evaluated effects.
Part I confirmed that oral ingestion of MSM (3 g/day) reduced signs of ageing such as facial wrinkles (p < 0.05) and skin roughness (p < 0.05), compared to the placebo. Part II showed a significant (p < 0.05) improvement from baseline in wrinkles, as well as improved skin firmness, elasticity and hydration with MSM. Some parameters a strong dose-dependent response.
Ingestible Collagen Hydrolysates for Skin Maintenance, Protection
Aguirre-Cruz, G., León-López, A., Cruz-Gómez, V., Jiménez-Alvarado, R. and Aguirre-Álvarez, G.; Antioxidants; https://doi.org/10.3390/antiox9020181
This review explores reported effects of both topically applied and orally ingested hydrolyzed collagen (HC) in skin. As an ingestible, HC was found to increase levels of collagen-derived peptides in the blood and improve skin properties such as elasticity, skin moisture and transepidermal water loss. Additionally, the daily intake of HC protected skin against UV melasma, and enhanced fibroblast production and the extracellular matrix of the skin. 
Traditional Sosihotang Herbal Blend for Anti-UVB Effects
Im, A.R., Ji, K.-Y, Nam, K.W. and Chae, S.; Journal of Pharmacy and Pharmacology; https://doi.org/10.1111/jphp.13313
Sosihotang (SSH) is a traditional herbal medicine used in Northeast Asia. According to one source, it is comprised of seven herbs: Bupleuri radix, Scutellariae radix, Ginseng radix, Pinelliae tuber, Glycyrrhizae radix et rhizoma, Zingiberis rhizoma crudus and Zizyphi fructus. Here, 100 mg/kg of an SSH extract were administered in an animal model over the course of 12 weeks as UV irradiation increased from 60 to 120 mJ/cm2. Results indicated treatment with SSH restored levels of factors instrumental to skin hydration and collagen regulation; inhibited epidermal thickening and disorganization; and ameliorated the expression of UVB‐induced pro‐inflammatory cytokines.
Voodoo Lily (Amorphophallus konjac) Supplement Improves Hyperpigmentation, Dryness, Itch and More
Venkataramana, H., et al.; PubAg; U.S. Department of Agriculture National Agricultural Library
These authors assessed the skin health benefits of an oral supplement of a hydroalcoholic extract from Amorphophallus konjac tubers—also known as voodoo lily, konjac and devil's tongue—standardized to 5% glycosylceramides, in a placebo-controlled clinical trial. Fifty-one volunteers, ages 18–60, were supplemented with 100 mg/day of either a placebo or A. konjac extract capsules (5 mg glycosylceramides) for six weeks. The supplement decreased skin dryness, hyperpigmentation, redness, itching and oiliness (p < 0.05) in a time-dependent manner. No adverse effects were reported.