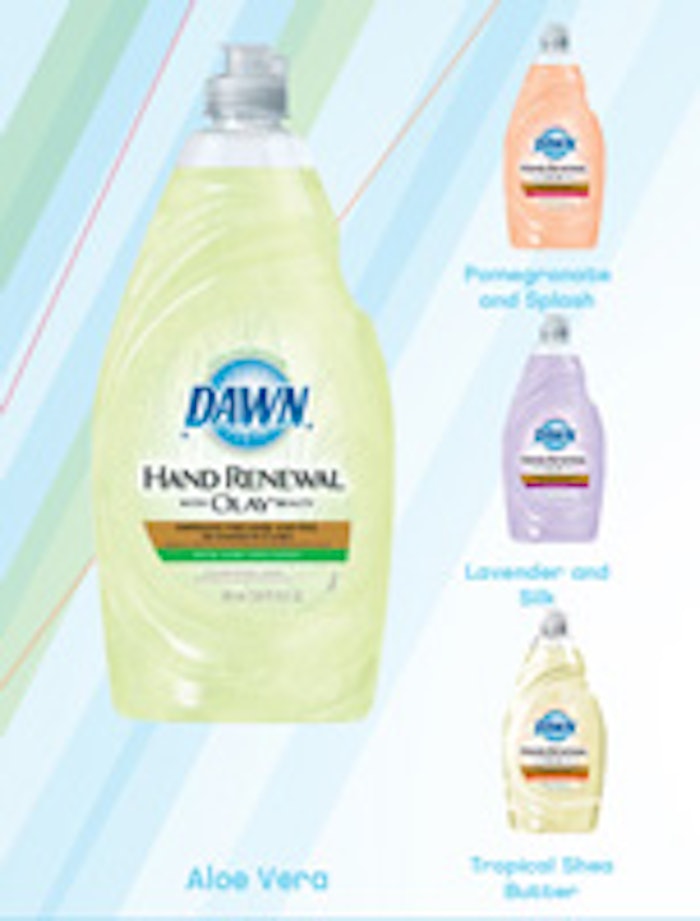 Procter & Gamble (P&G) has sourced Olay, its skin care brand, to create a dish soap that cleans dishes and moisturizes hands. Dawn Hand Renewal is claimed to effectively cleans dishes while transforming the look and feel of hands in just five uses. The line is formulated with the company's surfactant technology and moisturizing ingredients.
According to the company, Dawn Hand Renewal with Olay Beauty helps skin feels softer and more beautiful while fighting grease. The hand care dish soap is offered in Pomegranate and Splash with Vitamin E, Lavender and Silk with Vitamin E, Aloe Vera and Tropical Shea Butter.
"Dawn Hand Renewal with Olay Beauty features enzymes and our unique surfactant technology to help seal the moisture in your hands while you do the dishes," said Ryan McLean, brand manager, Dawn. "We understand our consumers don't want to sacrifice beauty or cleaning power, and this product allows for superior everyday housework while at the same time beautifying their hands in only five uses."
According to a recent national survey conducted by Harris Interactive on behalf of P&G's Dawn brand, among 500 US adult women, about three in five (59%) women believe their hands reveal their age. Additionally, 98% of women maintain a beauty or moisturizing regimen for their hands. The survey also showed that 94% of women believe there is at least some occasion when hand softness and appearance are paramount.