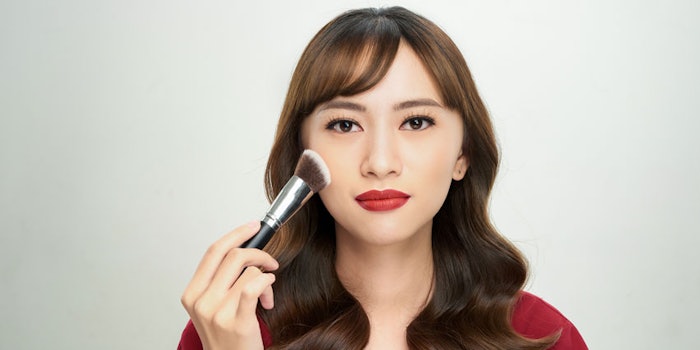 Kao Corp. recently reported findings that spraying its 'Fine Fiber Technology' onto skin imparts a light, soft and natural membrane layer, to which color foundation may be applied for an even texture and skin tone.
Related: Kao Predicts 86 Changes in Skin with Age, Menstrual Cycle and More
These results were presented at the 71st Divisional Meeting of the Division of Colloid and Surface Chemistry in September 2020, where the paper was awarded for best online presentation. The study was also presented at the 25th JFACE (Japanese Academy of Facial Studies) Annual Conference in October 2020.
More specifically, an ultra-thin fine fiber membrane, previously described, was sprayed onto an artificial skin model having an uneven surface. The resultant film was then observed by SEM, which revealed the fine fiber membrane had a three-dimensional structure consisting of inter-folded, superfine fibers with a large number of small gaps between them.
To this membrane, a cosmetic was applied wherein the powder contained in the base makeup was found to distribute evenly and densely, becoming fixed in the gaps. According to Kao, results indicate that using this fine fiber membrane on skin before applying foundation achieves higher coverage even with small amounts of the base makeup formulation.