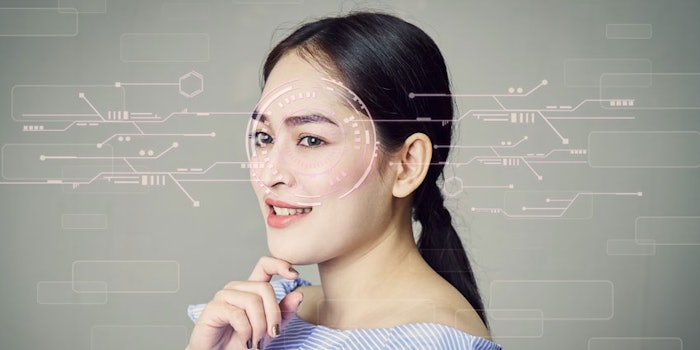 Kao Corp. reports that a novel technique using artificial intelligence (AI) to monitor skin surface lipids (SSL) and their ribonucleic acid (RNA) can precisely predict constantly changing skin conditions. Some 86 attributes were examined in skin; changes in the cases of aging and during the menstrual cycle were reported.
These findings were presented at the 72nd Annual Congress of the Japan Society of Obstetrics and Gynecology, held online in April 2020. They also were presented at the 31st IFSCC Congress, held online in October 2020.
Previous Findings: SSL-RNA Expression
Kao previously discovered the presence of human RNA in sebum and developed its SSL-RNA monitoring technology to comprehensively analyze this RNA. The company then identified that SSL-RNA is associated with the symptoms of atopic dermatitis in adults and young children. Furthermore, that RNA expression patterns vary from day to day depending on health conditions and the environment. Kao thus began researching associations between skin conditions and SSL-RNA expression.
SSL-RNA Changes with Age, Menstrual Cycle
In the present work, Kao investigated whether SSL-RNA provides information on periodic biological and age-related changes in skin. It also looked at what attributes can be predicted using a single SSL-RNA sample.
Briefly, SSL-RNA samples from 38 women 20 to 45 years of age at various stages in their menstrual cycle (follicular, luteal and menstrual) were analyzed. This study revealed that expression patterns of SSL-RNA varied depending on menstrual cycle stage.
In addition, SSL-RNA samples from 134 women 20 to 59 years of age were analyzed and SSL-RNA expression patterns were found to change with age. For example, ATP5A1 (ATP*3 synthase F1 subunit alpha) expression levels, which are known to decrease with age, also decreased in SSL-RNA.
86 AI Predictions in Skin and Body Attributes
Kao then designed a predictive model for 99 attributes of skin and body conditions based on the study of 134 women. Researchers collected SSL-RNA samples from them, and physical attributes of the skin were quantified using instruments, visual evaluation scores and quantitative data of skin components.
The team employed AI to learn the patterns of correlation among SSL-RNA expression, age information and measured data of approximately 90% of these women. AI was then used to predict the skin conditions in approximately 10% of the women based on this information.
Results revealed that 86 of the attributes for skin and body conditions including moisture levels, skin transparency (visually evaluated) and glycosylation of stratum corneum proteins could be predicted with high precision based on SSL-RNA expression and age.
Conclusions
The researchers concluded these findings show the SSL-RNA technique can precisely visualize various aspects of skin conditions in real time based on a single sebum sample. Kao is using this technique in a collaboration with Preferred Networks Inc. (PFN) to develop a predictive algorithm for skin conditions using PFN's AI technology with the goal of developing individualized beauty counseling advice and skin care products.
See related: Personalized Cosmetics, Has the Time Come?