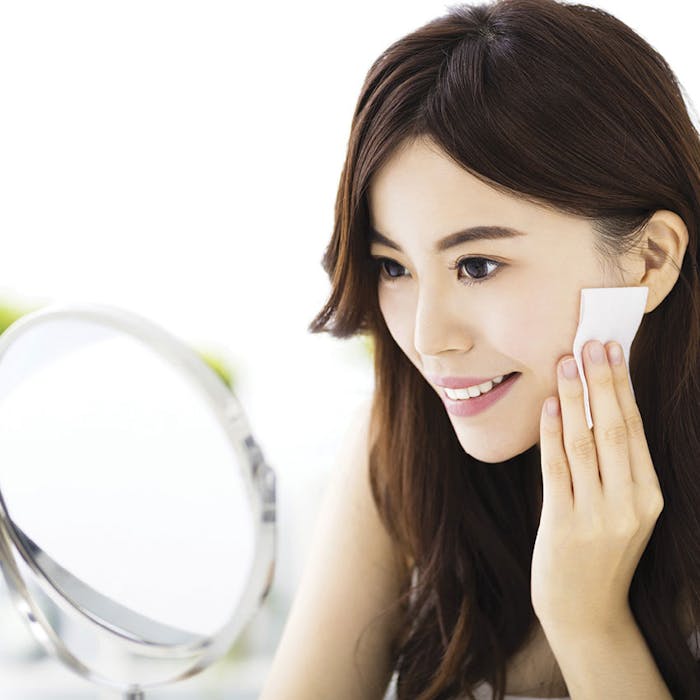 K-beauty, an umbrella term for South Korean beauty, emerged as a trend in 2016. It gained popularity, particularly in the United States, for its focus on skin luminosity, hydration and reduced pigmentation. K-beauty regimens involve a series of steps including cleansing rituals with both oil- and water-based products, sheet masks, essences, serums, lotions and high SPF sunscreens.
Asian women in eastern cultures are known for eagerly embracing new skin care products and diligently performing complex routines. However, one may wonder whether K-beauty products perform as well for Caucasian skin, in western cultures. Considering biology and skin care habits, K-beauty appears to deliver its full benefits when embraced in its entirety, which, due to time constrains, rarely happens in the West. This article reviews these important differences, as well as cultural views and biological implications.
K-Beauty and the Immaculate Canvas
K-beauty represents the cutting edge of beauty, especially due to its combination of layering, customization and gentle nature-meets-technology ethos, which boosts its appeal.1 According to Mintel, Korean women have focused on skin care rather than makeup for years. Their ultimate goal is to achieve a complexion with a dewy, glowing finish without the need for concealers and foundations having high hiding power.
The ultra-elaborate skin care regimens of Korean women can incorporate more than 10 steps; starting with double cleansing using both oil- and water-based cleansers, followed by the application of lotions, essences, serums and high-SPF sunscreens for the day, and rich "sleep creams" at night. Ingredients focus on cell regeneration, anti-inflammation, and firming and tightening properties via the likes of snail mucin, bee venom, marine extracts, ferments, hyaluronic acid and collagen.
Most skin types can benefit from a customized routine that addresses hormonal health and lifestyle choices. The repetitive cleansing, masks and layered moisturizing ingredients in K-beauty prevent and repair internal and external damage—from hormonal fluctuations to UV damage and the dehydrating effects of alcohol.
U.S. dermatologists agree there is an advantage to expanding beauty regimens beyond the basics of cleansing and moisturizing to address specific concerns; i.e., fine lines, enlarged pores or uneven skin tone. They report a customized skin care routine "makes sense from a biology standpoint," although complex routines are not new. Informed U.S. consumers typically have four-step routines, including a daily peel and serum. To fully incorporate K-beauty into typical U.S. routines, adding one effective step at a time is recommended.
The commitment and dedication of Asian consumers to daily, complex, multi-step routines delivers results.
New Product Concepts
Korean beauty can bring new product concepts to the West; e.g., toners as "hydration primers," which further prepare skin to absorb the active ingredients from subsequent products. Also, "beauty waters" with micellar technology for softening and mild exfoliation, and "essences," which act as hybrids between toners and serums, to repair and plump facial skin. Sheet masks also offer intensive hydration for dry skin as an inexpensive, easy add-on in single doses or a pack.
The combination of these technologies can address different and contrary concerns, which can manifest at the same time; e.g., the lack of tone and unevenness of skin, spots and oily patches, as well as localized rough texture and dryness. Further, packaging as well as effervescent or self-heating masks, representing a "science project," can add a playful narrative. These also invite the user to pay attention to the intensified sensation, massaging their face and cooling during rinse-off to leave a satisfying, refreshed and clean skin feel.
Biology Defines Efficacy
Topical systems aside, does K-beauty deliver equal benefits to Caucasian and Asian skin? Science has identified differences in skin structure and function between ethnicities. The most obvious is color, primarily due to melanin, and while higher levels of melanin delivers photoprotection, it also makes Asian skin more vulnerable to hyper- and hypo-pigmentation. In contrast, the Caucasian face experiences an earlier and more prominent onset of wrinkles and sagging.
Both Asian and Caucasian skin have similar baseline barrier properties and ceramide levels. However, upon mechanical challenges such as exfoliation, Asian skin has weaker barrier functioning. It may also be more sensitive to exogenous chemicals due to a thinner stratum corneum and higher density of sweat glands.2 South Korean skin, in particular, has been found to excrete higher levels of sebum, which lasts until later in life.
In summary, Caucasian and Asian consumers face different skin issues. Asian consumers focus on hypo- and hyperpigmentation, the removal of sebum as well as skin firming. Their commitment and dedication to daily, complex, multi-step routines as well as hands-on attention to their skin delivers results. Their skin care routine is a ritual.
Caucasian skin, on the other hand, might require more efficacious ingredients. The gentle, anti-inflammatory and hydrating focus of Asian routines, unless introduced in their entirety, may not be enough to alleviate the key concerns of Caucasian skin; namely lines, wrinkles and sagging.
References
Accessed on March 31, 2017.
wsj.com/articles/k-beauty-the-exhausting-skin-care-regimen-that-may-be-worth-the-effort-1459970031
researchgate.net/publication/5358567_Ethnic_skin_types_Are_there_differences_in_skin_structure_and_function