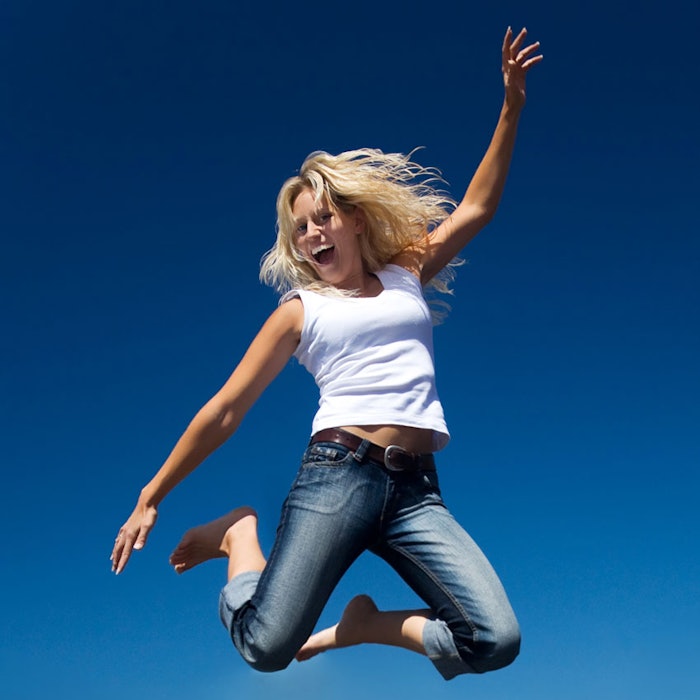 How do you measure the effects of gravity on skin when everything it affected by it? This was a question that researchers at LVMH aimed to answer. Their work, presented at the IFSCC Congress, targeted skin sagging and the emotional responses it elicits.
Why skin sagging? According to Héloise Vergnaud, of LVMH, there's a growing number of women in the 50+ age range, and this "Silver Generation" is highly concerned about the consequences of aging on skin.
After considering awkward subject positioning and other techniques to defy gravity, the group came up with a novel approach: recording a model using a high-speed camera as she jumps on a trampoline. As she jumps, she holds a natural and neutral expression. Using this video, the researchers captured images of her face at zero gravity, 1G, 2G and 3G. This visualizes her facial contours in various stages of aging.
Respectively, zero gravity reflected anti-sagging potential; 1G represented normal skin sagging; and 2G and 3G demonstrated sagging contours of aged and further aged skin. The captured images were then presented to a group of panelists who guessed the ages of the subject in the photos, and used words and phrases to describe the woman in the photograph.
As far as age ratings, as you might expect, the zero gravity image was rated the youngest. And while there were differences in age ratings between 1G, 2G and 3G, a significant 5-year variance was found between the 1G and 3G image.
Most interesting, however, were the differences in phrases panelists used to describe the photographs. The zero gravity image gave a sense of determination, confidence, health, happy and even fragility. At 1G, determiniation and confidence came up again, as did tired, angry and stressed. The 3G photograph sadly was described as depressed, fragile, sad, stressed and tired.
Vergnaud concluded that the impact of sagging on emotional associations was more significant the impact on assumed age from the photographs. 
"Our role is to help [consumers] improve their position emotion and social interactions, not just the signs of aging," she said.