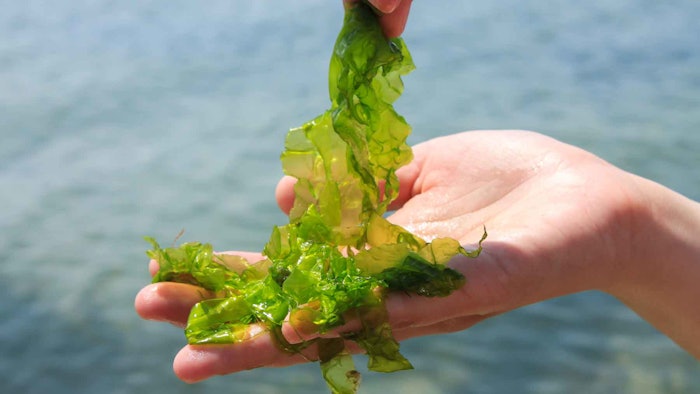 La Mer's Max Huber Research Labs has discovered, through lipidomics analysis, that Macrocystis pyrifera ferment supports skin's natural lipid production, enabling it to create a stronger barrier and to accelerate skin repair. "This is an exciting discovery as it suggests we can help slow down the lipid aging process from within, instead of attempting to aid the lost function by topically applying those lipids," said Jaime Emmetsberger, Ph.D., lead scientist for La Mer's Max Huber Research Labs.
See related: Macrocystic pyrifera Ferment Preps for Pro-level Anti-aging, Daily Stress
Skin Lipid Boost
As the company explained, total stratum corneum lipids can decrease by ~30% with age as a result of decreased lipid metabolism, and a compromised skin barrier is more prone to irritation and water loss that can result in rough surface texture, uncomfortable tightness and loss of facial fullness. However, significant increases in skin barrier lipids and skin-repairing lipids were observed in skin models treated with the company's Macrocystis pyrifera ferment. These findings were presented at the 47th annual meeting of the Japanese Society for Investigative Dermatology, held Dec. 2-4, 2022, in Nagasaki, Japan.
More specifically, findings indicated the ferment:
Enhanced epidermal neutral lipids, such as triglycerides and wax esters, which are critical in a functional permeability barrier;
Altered the lipid profile, enriching barrier lipids while enhancing epidermal differentiation and lipid metabolism; e.g., OAHFAs, wax esters, triglycerides and diacylglycerides were increased, while monoacylglycerides, phospholipids, phosphatidic acids, phosphatidylcholine and phosphatidylethanolamines were decreased; and
Enhanced lipid mediators that support repair, strongly inducing pro-resolution lipid precursors, 15-HETE and 17-HDOHE, suggesting the ferment helped to support the 15-lipoxygenase enzyme that produces these lipid mediators.
Barrier Repair
This work follows previous research showing the material's ability to enhance overall barrier integrity and function, which was presented during the 2022 Society of Investigative Dermatology meeting.
"We explored the skin barrier benefits of our proprietary Macrocystis pyrifera ferment, both at a cellular level as well as clinically," said Emmetsberger, in an earlier interview. "We demonstrated that the ferment enhanced filaggrin expression in cultured keratinocytes; increased skin lipids; supported barrier integrity and enhanced the skin's moisture content. It also demonstrated accelerated recovery benefits following barrier breach with microneedles in reconstructed skin models—this gave us a foundation to move forward to evaluate the ferment clinically, where we evaluated barrier resiliency using a multi-ingredient serum that contained the ferment."
Clinically, the serum showed barrier-strengthening properties, which led to further evaluations as to whether the serum could help to support barrier integrity when the skin barrier is disrupted by cosmetic treatments or professional procedures such as glycolic acid peels or laser procedures. "What we found is the serum reduced water loss, reinforced the stratum corneum quality and reduced immediate barrier disruption caused by these professional level treatments."