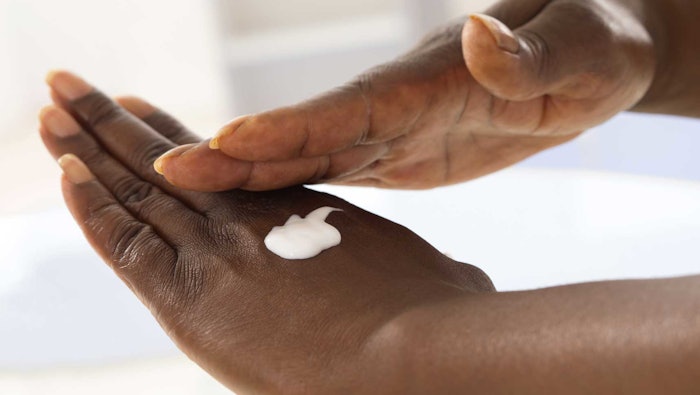 Skin dryness, sensitivity and itch can develop if the skin barrier is compromised, and natural oils or lipids, e.g., ceramides, are essential to ensure the skin's barrier remains strong. As such, Unilever scientists have sought ways to trigger the skin's natural ceramide-producing processes to help skin heal from within. 
See archived: Inside Ingredients; Ceramides
They discovered that a test lotion containing glycerol, FFAs and small amounts of occlusive agents showed promise. Results were published in Scientific Reports.
"Our products contain skin-identical lipid precursors which act as the building blocks to allow the natural process of ceramide production to occur," said Andrew Mayes, Ph.D., senior skin research manager at Unilever R&D, in a company post. "They provide the raw materials and then the skin can do the rest." He added, "Through our research, we have not only discovered how the skin can be stimulated to maintain its own production of ceramides, but also that this production leads to a direct improvement in skin quality and hydration."
The scientists also examined whether such a treatment could help the skin microbiome. Leveraging Unilever's partnership with Eagle Genomics, scientists identified the test product increased levels of Staphylococcus epidermidis, a bacteria associated with good skin health. This microbe is naturally present on human skin and plays a key role in the production of beneficial metabolites including lactic acid that, according to Unilever, help to defend the skin against external threats.
See related: How Global Warming Impacts the Microbiome and Skin Health
"The ability of product application to improve the skin microbiome was a very exciting discovery," said Barry Murphy, Ph.D., senior microbiome research manager at Unilever R&D. "... Using [Eagle Genomics'] AI-augmented platform to analyze complex biological data and study how our skin and its microbiome interact has been central to this research."
Further, based on another method developed by Unilever scientists in conjunction with the Chinese Academy of Science, published in mSystems, the researchers identified that following the application of the product, the skin microbiome was more connected and resilient than at baseline.
"This is an amazing time to be a microbiologist; advances in technology, bioinformatics and, increasingly, in AI, are unlocking new knowledge about the human microbiome every day," said Michael Hoptroff, senior microbiome research manager at Unilever R&D. "This research has the potential to unlock the future of beauty and well-being and allow us to create a new generation of products underpinned by the best data and scientific knowledge in the world."