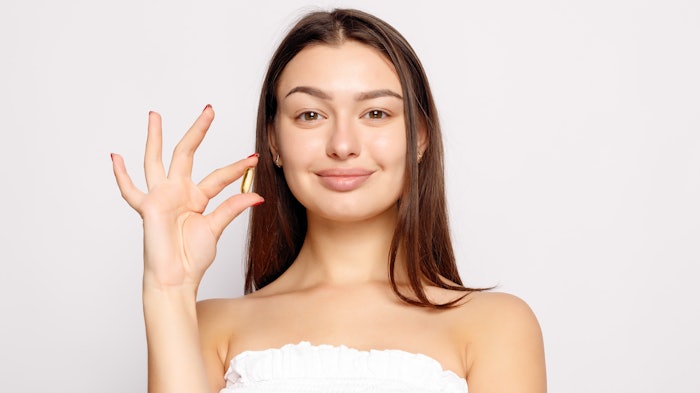 There are reportedly 23 million acne sufferers in Europe,1 but research presented at the European Academy of Dermatology and Venereology (EADV) 2022 Spring Symposium could help to resolve this acne crisis.
As reported in a Eureka Alert, researchers in the Department of Dermatology and Allergy, Ludwig-Maximilian University, Munich, studied 100 individuals diagnosed with acne. By measuring nutritional parameters in their blood, they found that 94% of the patients had omega-3 fatty acids well below (8-11%) the recommended levels. In addition, patients who reported regularly consuming legumes such as chickpeas and lentils, and abstained from sunflower oil, had higher levels of the fatty acid.
See related: Formulating on Trend; Healing Acne Care
The research team is now calling on clinicians to ask about the dietary habits of acne patients when discussing diagnosis and treatment for their condition.
"Nutrition plays a pivotal role in the prevention, onset and course of many diseases, including dermatologic disorders such as acne vulgaris," said Anne Gϋrtler, M.D., lead author. "As part of a modern treatment approach, clinicians should provide patients with information on how their choice of diet might impact their dermatologic diagnosis and could potentially enhance therapeutic outcomes."
She added, "For years, a negative impact for acne vulgaris has been attributed to a western diet due to its direct effects on IGF-1 levels. Preventive and therapy accompanying nutritional measures, however, have not yet been sufficiently addressed. In this regard, omega-3 (ω-3) fatty acids (FA) appear most promising due to their anti-inflammatory effects."
See also: Topical Antioxidant and Silymarin Serum Improves Facial Acne
According to the same Eureka report, omega-3 fatty acids reduce inflammation by stimulating the production of prostaglandins E1 and E3, and leukotriene B5, and lowering levels of the insulin-like growth factor (IGF)–1, the central hormone that induces acne. In the study, patients with omega-3 levels lower than 8% showed higher IGF-1 levels, compared with patients without a deficit in this nutrient. In patients with a severe deficit of lower than 4%, levels of the acne-inducing hormone increased even further.
"To determine an effect that a supplement may have, baseline levels need first to be investigated to evaluate whether real deficiencies exist," said Gürtler. "The objective of the present study was to explore acne patients' ω-3-FA blood levels in erythrocytes (red blood cells) and correlate them with the clinical severity of the disease and patients' dietary habits.
"While data presents a tendency toward ω-3-FA deficit in the general population, our study outlines aggravation in acne patients. The results of this study might serve as a basis for future interventional trials."
See also: Nootropics and Nutricosmetics Fuel Beauty in 2022
References
1. Richard M.-A., et al. (2022). The Burden of Skin Diseases [BOSD] in Europe: Preliminary results about the prevalence of the main skin diseases in Europe. Abstract No. 358 presented at EADV Spring Symposium 2022. https://eadvsymposium2022.org/wp-content/uploads/2022/05/eadv_abstracts_book.pdf.