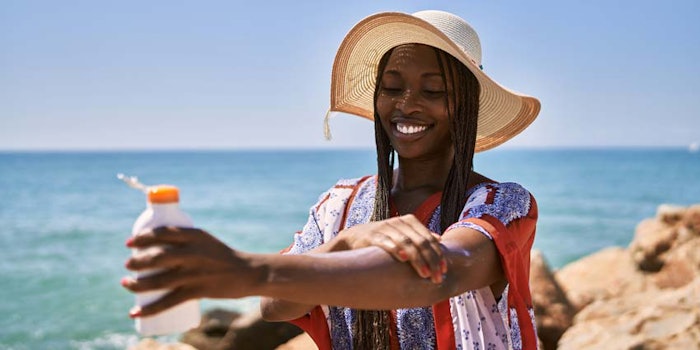 L'Oréal discloses, in a recent patent application, an approach to create sunscreens in customized colors to match various skin tones.
Untinted sunscreens are widely used to protect skin from damage caused by the sun. Furthermore, consumers demand products that impart multiple benefits and seek makeup with good sun protection that also matches diverse skin tones.
Formulation Challenge
According to the inventors, it is a major challenge to develop a sunscreen with high SPF and a high concentration of pigments mainly due to stability issues. There is thus a need for stable shaded sunscreen products that adapt to all skin tones without compromising sunscreen benefits; this is the focus of the present invention.
See related: Durable Beauty; Formulating Transfer-resistant, Persistent Color Cosmetics
Method of Providing Customized Color Shade Sunscreen Products 
U.S. Pat 20210283027
Publication date: Sept. 16, 2021
Assigned to: L'Oréal (Paris)
Disclosed in this patent application is a product that comprises a color dose formulation, an instruction for use and, optionally, a sunscreen. The color dose formulation has a high concentration of pigments and is suitable for being mixed with a sunscreen to prepare a customized, color-shaded sunscreen product. Also provided is a method of preparing said product to match a skin tone.
See related: Opportunity in Diversity; Formulating for the Multiethnic Market
The formulations may be selected from six color-shaded compositions that offer products suitable for all skin tones. The customized sunscreen may also provide a sensorial benefit such as dry touch, good spreadability, no white residue, oil control and/or protection against UV rays, infrared rays and visible light.
More specifically, the color dose formulation comprises specified ranges of six pigments including titanium oxide anatase, red iron oxide, black iron oxide and yellow iron oxide, all coated with aluminum stearoyl glutamate, wherein the color dose formulation comprises at least 28% w/w pigment in total. For additional details, see the patent application.