What is the difference between PEG 8-dimethicone, bis-PEG 8-dimethicone and bis-PEG 8/PEG 8-dimethicone?
Silicone compounds are becoming a more and more important class of compounds used in almost every type of personal care application. INCI names for compounds previously called dimethicone copolyol were changed to indicate the number of moles of ethylene oxide (PEG) and propylene oxide (PPG) present on the molecule, and more recently to differentiate terminal and comb polymers. Significantly, the INCI name does not disclose the values of "a, b, c, d or e," which are crucial to functionality.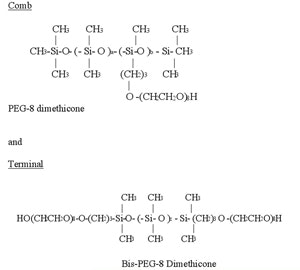 Recently1, a new class of materials was introduced that has functionality on both the terminal and comb positions. Since the materials have multi-branched groups all around the molecule, they were dubbed "star silicones."

These materials are different in functionality from the terminal and comb structure in that they have a higher level of foam, a significantly higher cloud point in water and better detergency. The compounds of this type are intended for hair and skin care in aqueous systems.
References