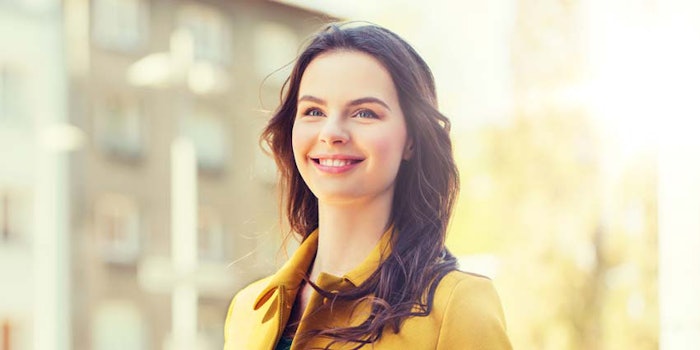 An irregular convexo-concave microstructured film covering can inhibit the adhesion of airborne particles to skin, scientists at The Skin Care Research Laboratory and Material Science Research Laboratory of Kao Corp. have discovered.
According to a company research report, airborne particles including dust, pollen and particulate matter can easily attach to skin, causing irritation, itch, skin roughness and dullness. Furthermore, long-term exposure to such particulates can accelerate skin aging and cause hyperpigmented spots and wrinkles.
See related: The Dirty Truth About Pollution-induced Skin Aging, The AhR Pathway Tells All
Here, Kao researchers focused on attractive forces between particles and the skin, specifically the Van der Waals force, to develop a technology to control fine particle adhesion. They attempted to extend the distance between the spherical objects (particles) and adhesion surface (skin) by preparing convexo-concave irregularities with varied roughness on the surface, which ultimately lowered levels of adhesion.
From this, the team sought to identify how to form a film with this fine irregular convexo-concave microstructure on the skin. Using UV-scattering agents, such as titanium oxide and zinc oxide, it was possible to form said film with a fine irregular convexo-concave microstructure, which significantly the adhesion of fine particulates.
See related: [video] Big Step Forward for Anti-pollution Claims
However, in practice, when UV scattering agents are blended, the ability to reduce adhesion is generally lost because the surface of the film is submerged under compounding oil. Kao overcame this problem by making the UV-scattering agents difficult to wet with an oil agent.
The result was a fine convexo-concave film with UV-scattering agents on the surface, which successfully reduced the adhesion of particles to skin. The company notes this discovery paves the way for unique products such as sun care applications that effectively protect skin against particulate irritants and pollutants.