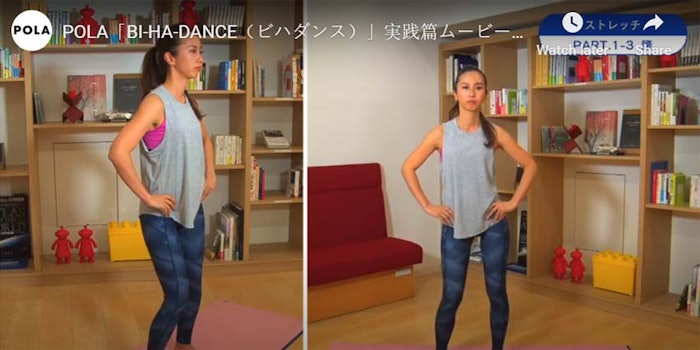 As part of a corporate initiative to support bright women and contribute to society, Japanese beauty giant POLA has sponsored the national rhythmic gymnastics team, 'Fairy Japan POLA,' since 2007. Now, the two have joined efforts to develop an exercise routine for consumers based on findings that exercise releases anti-aging hormones.
As previously reported, muscle can control facial pigmentation. Shu Nishikori, of POLA, presented these findings during the 2018 IFSCC Congress, explaining how the hormone myonectin, when secreted from muscle, suppresses facial lentignes.
Now, Fairy Japan POLA has created a series of exercises incorporating this research in order to help consumers achieve a lively, supple body with a muscular trunk that supports beautiful skin. 
"The more muscle the body has, the less skin problems such as spots and wrinkles," states Nishikori, on the company's web site. "In fact, a skin-fabric substance called myonectin, which is made by muscles, is carried to the skin by the bloodstream, and it suppresses the production of melanin, which is the source of spots."
The result? The 8-week Bi-Ha-Dance program, which focuses on the relationship between muscle and the release of specific hormones to improve skin's appearance. Below is part one.