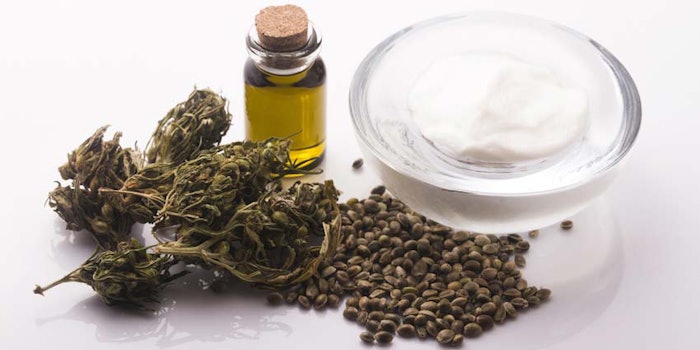 Researchers from COMSATS University Islamabad, Islamia University of Bahawalpur and Abbottabad University of Science and Technology, in Pakistan, have published on the topical effects of a medical Cannabis sativa seed extract in a dermocosmetic.
Various sources report the phytochemistry of medical cannabis as characterized by phenolic compounds, phytocannabinoids, mono- and sesquiterpenes, hydrocarbons, steroids, flavonoids, nitrogen compounds, sugars and amino acids, among others. Based on its known ROS-scavenging capabilities, a medical C. sativa extract was prepared and loaded in a dermocosmetic at 3%, then tested for topical skin care effects.
The test formula and vehicle alone were used by Asian male volunteers, ages 20 to 35 (n = 11), in a split-face manner; products were applied to the left and right cheeks for up to three months. The effects of the dermocosmetic versus the base were assessed by surface evaluations of the living skin for roughness, scaliness, smoothness and wrinkles. 
Unlike the base, the C. sativa dermocosmetic showed significant (5%) improvements in all parameters measured, suggesting its application for anti-aging effects in skin.