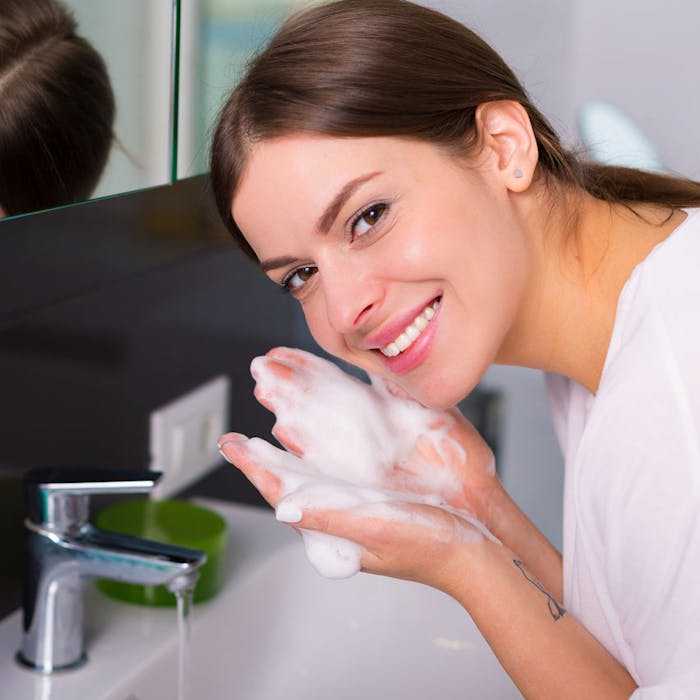 According to Procter & Gamble (P&G) inventors, skin care products often employ polymers to manage rheological properties and promote performance benefits. However, sometimes they can negatively affect sensory benefits.
Foams can reduce or eliminate the need for polymers by thickening products using air, conveying rich and creamy aesthetics. Foams also easily absorb into the skin by rapidly breaking down into fluids. On the other hand, foams can lack the stability of polymers, which results, once again, in a negative sensory experience for consumers. Furthermore, ingredients that provide visual skin care benefits, such as sebum absorption, are known to be defoamers.
P&G inventors therefore sought to develop a foam composition with both robust stability and incorporating sebum-absorbing powders to provide visible benefits to skin. A new patent application explains.
Stable anti-sebum foam compositions and methods to enhance sensory benefits
WIPO Pat App WO/2018/057413
Publication date: March 29, 2018
Assignee: The Procter & Gamble Company
Disclosed in this invention is a liquid, foamable composition that includes a cationic surfactant, nonionic surfactant or mixtures thereof; a fatty alcohol; and a sebum-absorbing component. The sebum absorber consists of silica silylate, hydrophobically or hydrophilically surface-modified silica silylate, or a mixture thereof. 
In particular, in one embodiment, the liquid foamable composition includes: 0.05–5.00% w/w cationic surfactant; 0.1–10.0% w/w fatty alcohol; and 0.1–10.0% w/w of the sebum absorber.
According to the patent application, the inventors surprisingly discovered that when the sebum-absorbing powder, a known defoamer, is incorporated with specific levels of cationic surfactant and fatty alcohol, the resulting composition remains stable and provides the desired sensory and visual benefits. The inventors believe the combination of fatty alcohol and cationic surfactant may form a lamellar gel network, and that the sebum-absorbing particles provide acute visual benefits on skin by controlling shine.
Patent application accessed on April 2, 2018.