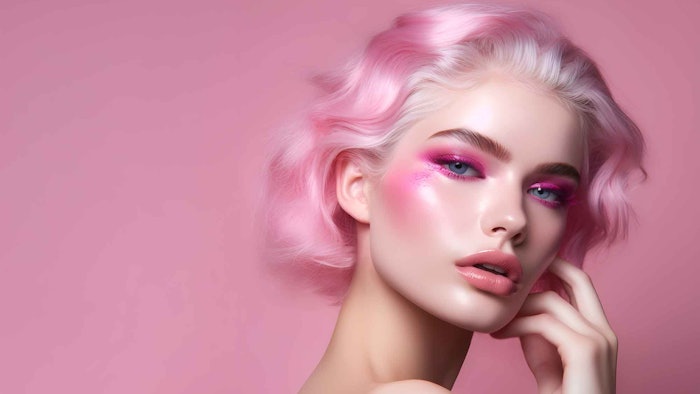 What are beauty consumers wondering about? Our social media video report, Consumer Pulse, highlights weekly top Google and TikTok trends — this time including illuminating and glowing skin, discoloration serum, deep oiling and more. Here's an overview.
See related: 10 Most Popular Celebrity Beauty Brands
Kylie Cosmetics Hondos (+400%)
Per Google Trends, searches on "Kylie Cosmetics Hondos" are up 400% this week, thanks to the brand's debut with retailer Hondos Center. TikTok recently featured the launch party, held in Greece. 
Among other products, the brand is currently featuring the "Kylie Jenner Kylighter," a pressed, skin-illuminating powder, reportedly designed to create a subtle multidimensional glow. The product is said to impart a light texture that blends easily on skin, is talc-free and features "ultra iridescent pearls." In addition, its "exclusive gel-to-powder" technology is enhanced with shimmer particles.
Fryboy Without Makeup (+400%)
"Fryboy without makeup" also topped the Google trends searches related to cosmetics. TikTik star Fryboy is reportedly know to "haunt" guests are Hershey Park around this time of year; i.e., approaching Halloween. While not directly related to cosmetic products, Fryboy does don black-and-white, sad clown makeup. A recent "face reveal" video of him was featured on TikTok, probably drawing the observed consumer attention.
Prismos Beauty Products (+300%)
"Prismos Beauty Products" was up 300% in Google searchers, possibly linked to several YouTube video posts by SumanTV within the past week showcasing different products by the brand, such as body cleanser and dark under-eye cream. Another recent YouTube video presented "Prismos Beauty HydraGlow Rose Face mask uses in Hindi."
The brand is currently featuring its L-Glutathione Oral Spray for "glowing skin." Per the company, the ingredient provides antioxidant properties, immune support and detox for skin.
See also: The 2023 Beauty Consumer Decoded
Exploding Topic and Trending on TikTok
Finally, Exploding Topics reports a whopping increase of 2,767% this week on "discoloration serum," to brighten skin. In addition, Spate called out "deep oiling" for hair as a top trend on TikTok. 
See archived: Effects of Oiling, Inside and Out - Part I
Check out our socials for weekly Consumer Pulse reports like this.