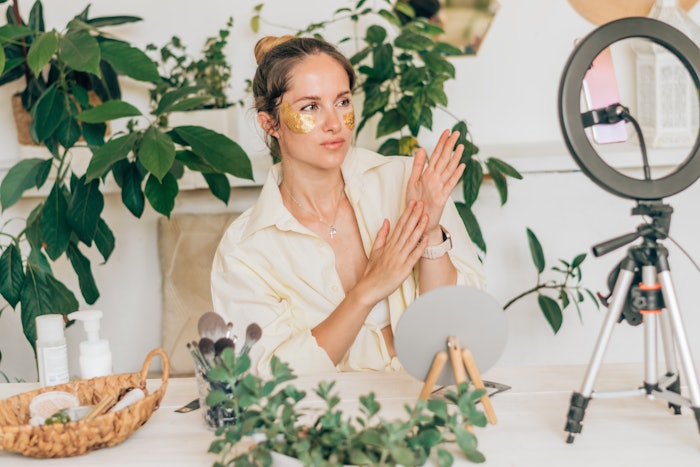 Spate has released its "TikTok Skincare Trends" report highlighting the top trends, as well as the top standout skin care brands on the platform. 
Standout Trends by Month-over-Month Growth
Wrinkle Patch (+236.0%)
Face Mist (+178.1%)
Micellar Water (+97.3%)
Spot Treatment (+74.6%)
Lip Scrub (+72.8%)
Face Wash (+65.7%)
Face Lift Tape (+36.5%)
Skin Cycling (+34.1%)
Hyperpigmentation Treatment (+32.4%)
Lip Mask (+28.6%)
Highlight: Regarding wrinkle patches, consumers are viewing concern hashtags around forehead and frown lines. 
Niche Trends
Silicone Patch (+727.2%)
Eczema Cream (+597.4%)
Rose Water Toner (+375.6%)
Makeup Wipes (+285.5%)
Tca Peel (+199.8%)
Blemish Spot Treatment (+193.2%)
Jelly Cleanser (+164.1%)
Skin Icing (+147.9%)
Melasma Cream (+144.9%)
Rose Water Spray (+114.8%)
Highlight: Alongside rose water spray, consumers are viewing concerns like dry skin and acne. Hydration is the top-viewed benefit hashtag, therefore showing a tie between rosewater and consumers' perception of hydration.
Standout Brands by Month-over-Month Growth
Elizabeth Arden (+3,312.6%)
Hanacure (+3,185.9%)
Skinfix (+761.8%)
Tatcha (+662.7%)
Youth To The People (+520.7%)
Rhode Skin (+393.2%)
Caudalie (+277.5%)
Musely (+215.1%)
Medicube (+208.9%)
First Aid Beauty (+194.0%)
Highlight: Consumers are looking to Skinfix for support with skin barrier, acne and dry skin.
Niche Brands by Month-over-Month Growth
Skin Inc Supplement Bar (+1,553.4%)
Tropic Skincare (+1,229.3%)
Esmi Skin Minerals (+872.1%)
Alpyn Beauty (+737.6%)
Kora Organics (+559.5%)
Algenist (+363.4%)
Glowbiotics (+322.7%)
Farmacy (+309.3%)
Vintner's Daughter (+307.6%)
Liz Earle (+274.1%)
Highlight: With Alypn Beauty, consumers are searching hashtags that emphasize fighting blemishes and texture. They are also prioritizing routines and self-care alongside this brand.