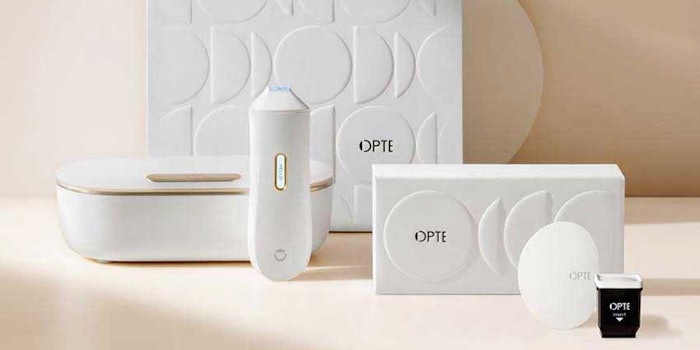 OPTE Precision System instantly targets, spot-treats and camouflages consumer-specified hyperpigmented areas of the face, from dark spots to freckles, while visibly fading them over time.
Related: CES 2021 Beauty Innovations Unveiled
OPTE digitally scans the skin, analyzes the complexion and treats hyperpigmentation, fading its appearance over time. In recent videos on social media, the technology is shown to not only even out skin tone, but also to "print" foundation on the skin and give it an even-toned appearance.
The technology reportedly aims to bypass creams meant for full application to the face, which can diminish some spots consumers may not wish to remove. In addition, it avoids lasers that can be costly and painful. It also replaces full coverage facial makeup for consumers who want a softer finish, precisely applying 97% less product and only where consumers choose for skin-like finish.
Ingredients include:
5% Niacinamide: This potent form of vitamin B3 and multi-tasking skin care active is reportedly proven to fade the appearance of dark spots over time.
Propylene glycol: This ingredient delivers essential, long-lasting, skin-supportive moisture and is known to help boost the effectiveness of niacinamide.
Sodium hydroxide: This inorganic compound balances the pH of the serum to the skin.
Acrylates copolymer: This polymer stabilizer maintains the structure and stability of the serum.
Caprylyl glycol and 1,2-hexanediol: These ingredients serve as a preservation system and antimicrobial.
The technology features a wand that uses a digital camera and a safe blue light to scan and detect spots, and then apply a serum just where it is needed for skin to look more natural, smooth and even. Additionally, the product comes with the company's proprietary serum, combining mineral pigments and other ingredients without sulfates, parabens, dyes, artificial colors, formaldehyde, phthalates, fragrances or animal-derived ingredients. The formula provides immediate coverage to create a natural look and reduce the appearance of age spots over time.
The company states that upon use, spots become instantly camouflaged; after eight weeks of daily use, skin appears more even; and by week 12, spots begin to fade.
Previously: [update] Skin Care Innovations to Check Out at CES 2019