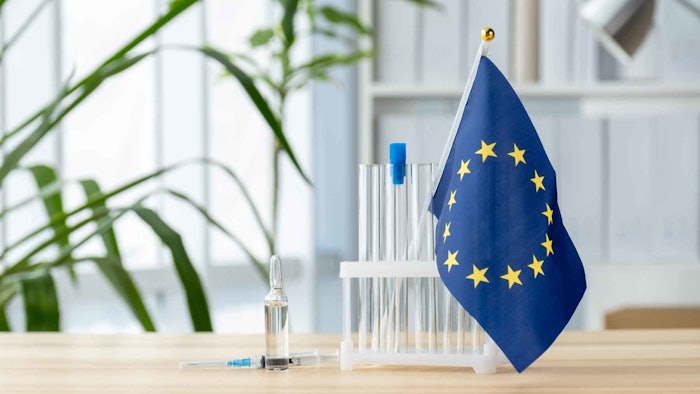 Within the past several weeks, the European Chemicals Agency (ECHA) has recommended adding eight chemicals to the REACH Authorization list, including some cosmetic ingredients*: particularly ethylenediamine, glutaral and orthoboric acid. The agency also is calling for PFAS restriction proposals, and it shared consultations on conforming restriction proposals and Committee for Socio-Economic Analysis (SEAC) draft opinions.
See related: Five European Nations, ECHA Propose PFAS Bans/Restrictions
8 Chemicals for REACH Authorization
According to the ECHA, to protect workers and the environment, the agency suggested that the European Commission (EC) add eight substances to the REACH Authorization List. Once substances are added to the list, companies must apply for authorization to continue using them.
The ECHA's 11th recommendation includes the following substances:
Ethylenediamine;
2-(4-tertbutylbenzyl)propionaldehyde and its individual stereoisomers;
Lead;
Glutaral;
2-methyl-1-(4-methylthiophenyl)-2-morpholinopropan-1-one;
2-benzyl-2- dimethylamino-4'-morpholinobutyrophenone;
Diisohexyl phthalate; and
Orthoboric acid, sodium salt.
The reasons for these recommendations are outlined in the annex to the recommendation. The three cosmetic ingredients, per the PCPC online wINCI Dictionary, include ethylenediamine and glutaral as potential respiratory sensitizers and orthoboric acid, as potentially toxic for reproduction.
See archived: EC Puts REACH Revision on Hold Until Late 2023
PFAS Restriction Proposals
Proposals for the restriction of polyfluorylalkyl substances (PFAS) will be accepted by the ECHA through Sept. 25, 2023. This period of consultation aims to give anyone with information on PFAS the opportunity to "have their say."
Per the ECHA, of particular interest is information relevant to the risks, socio-economic aspects and alternative substances. ECHA's scientific committees for Risk Assessment (RAC) and for Socio-Economic Analysis (SEAC) will use the consultation input to evaluate the proposed restriction and form an opinion on it.
Submitted restrictions under consideration, along with SEAC draft opinions, are available for review on the ECHA website. Forms for submitting comments to the ECHA during the relevant consultations also are provided.
For consultations on conforming restriction proposals, two deadlines are given. Per the ECHA, comments submitted by the first deadline are often very influential as they will be considered in the first discussion on the proposed restriction. More substantial comments should be submitted at the latest one month before the final deadline.
The European Commission, together with the EU Member States, will eventually decide on the potential restriction based on the proposal and the committees' opinion. 
*per the PCPC online wINCI Dictionary