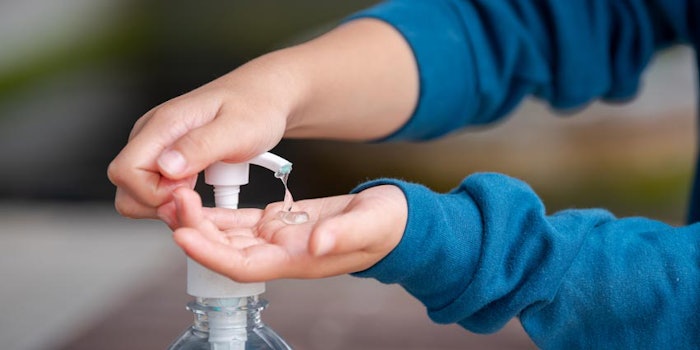 Hand sanitizer use is crucial to protect human health in the face of the current pandemic. However, accidental poisonings, many due to methanol-containing products, undermine very integrity of this precious safety net for public health.
According to a report by CBS News, the increased use of hand sanitizers has led to a surge in accidental poisonings, most involving children. The National Poison Data System registered 938 hand-sanitizer exposure cases from 55 different U.S. Poison Control Centers during the 10 day period alone of Jan. 1 to Jan. 10, 2021. This marks a 57% increase from the year prior and of those cases, nearly 600 involved children ages five and younger.
The U.S. Food and Drug Administration (FDA) has been issuing product alerts for several months now, warning consumers and continulally updating its "do not use" list of sanitizers for those found to contain, or suspected of containing, methanol; in addition to subpotent products. As CBS reported, more than half of the hand sanitizers imported from Mexico have been found to contain dangerous levels of toxic ingredients.
See related: How NOT to Formulate Hand Sanitizers
In relation, the FDA issued an import alert on all alcohol-based sanitizers produced in Mexico. "Over the course of the ongoing pandemic, the agency has seen a sharp increase in hand sanitizer products from Mexico that were labeled to contain ethanol (also known as ethyl alcohol) but tested positive for methanol contamination," the FDA wrote.
This marks the first time the FDA has issued a countrywide import alert for any category of drug product.
"Methanol, or wood alcohol, is a substance that can be toxic when absorbed through the skin and life-threatening when ingested. Methanol is not an acceptable ingredient in hand sanitizer[s] or other drugs."
Under the import alert, alcohol-based hand sanitizers from Mexico offered for import are subject to heightened FDA scrutiny, and FDA staff may detain the shipment. As part of their entry review, FDA staff will consider any specific evidence offered by importers or manufacturers that the hand sanitizers were manufactured according to U.S. current good manufacturing practice requirements. This marks the first time the FDA has issued a countrywide import alert for any category of drug product.
See related: Methanol Content and How to Test for It, FDA Guidance
"Consumer use of hand sanitizers has increased significantly during the coronavirus pandemic, especially when soap and water are not accessible, and the availability of poor-quality products with dangerous and unacceptable ingredients will not be tolerated," said Judy McMeekin, FDA's associate commissioner for regulatory affairs, in a Jan. 26 statement.
"Today's actions are necessary to protect the safe supply of alcohol-based hand sanitizers. We will continue to work with our stakeholders to ensure the availability of safe products and to communicate vital information with the health and safety of U.S. consumers in mind."