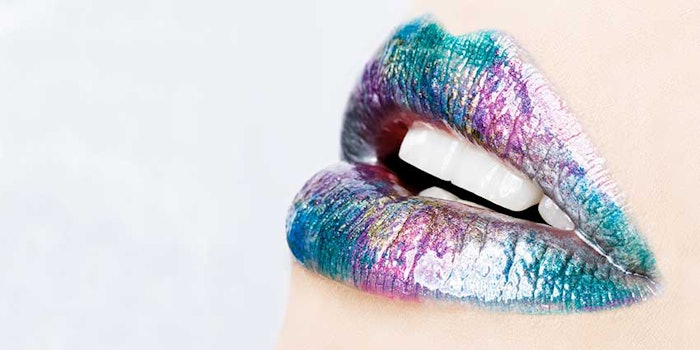 2017 has been the year of special effect pigments—the "unicorn" trend gained popularity earlier in the year, putting color-shifting effects into consumer minds and vanities.
Iridescent cosmetic products are not new, but their resurgence in popularity goes beyond the aforementioned trends—often, under a different name. While the unicorn trend plays off of iridescence, many other iridescent products on today's market are marketed as "holographic"—a separate color-shifting effect that displays a rainbow spectrum, compared to the flashes of color that iridescent products display in various angles of light.
The term "holographic" has taken off in the past year and a half—Google Trends shows searches for the term spiking in July 2016, reaching a high in April 2017. "Holographic makeup" experienced a similar spike in July 2016, peaking again in April and October 2017. In contrast, searches for "iridescent makeup" experiences spikes, but are down more often than they are up.
While independent manufacturers—and some larger brands—have been utilizing these effects for some time, they have now hit the mass market; dozens of search results for the terms "holographic" and "iridescent" exist on the Sephora website, and brands such as Mac, Kat Von D, Urban Decay and Bite Beauty currently market cosmetics with those terms.
Regulatory Status
The U.S. Food and Drug Administration (FDA) holds color additives in cosmetics to strict standards. These guidelines include special effect additives, which range from liquid crystal and fluorescent colors, tattoo pigments, Halloween makeup and composite pigment—under which holographic glitter falls.
Corinne Newhart, health communications specialist for the FDA, weighed in on the regulatory nature of these color-shifting pigments.
What are the differences in composition between color shifting pigments (such as iridescent or holographic) and typical color pigments for cosmetics?
Corinne Newhart (CN): Color shifting pigments (such as iridescent or holographic pigments) have coloring properties that differ from those of the individual components. An example is mica-based pearlescent pigments, in which a mica substrate is coated with a thin layer of materials such as titanium dioxide or iron oxide and combined using heat. Another example is guanine, which is made from fish scales.
Typical color pigments have coloring properties based on their structures. These include organic dyes, lakes (pigments made from organic dyes), inorganic pigments (such as iron oxides and manganese violet), metal powders (such as aluminum and copper), and botanical extracts (such as annatto).
Cosmetics and other beauty products with color shifting properties have become popular as of late (namely, the "unicorn" trend that uses iridescent pigment, and holographic nail polish). How might the regulatory process for these products differ from other color cosmetics?
CN: No matter how exotic or novel the color additive name or its intended use may imply, all color additives are subject to the same regulations. All color additives must be pre-approved by the FDA and listed for their specific category of use in Title 21 of the Code of Federal Regulations (CFR) in order to be legally used in FDA-regulated products.
The FDA's "Color Additive and Cosmetics" page states that holographic glitter, as an aluminum additive bonded with a plastic film, serves as an example of a composite pigment that "may not be approved for the intended use." A lot of cosmetics are marketed as being "holographic" but contain pearlescent or iridescent pigment—how do you believe the regulation concerning holographic additives affects this trend?
CN: The FDA has not listed pearlescent or iridescent pigments (except guanine) or glitter for use as color additives in cosmetics. However, the FDA has listed mica-based pearlescent pigments for use in foods, drugs, and contact lenses. Firms may petition the FDA to list a new color additive or a new use for a listed color additive.