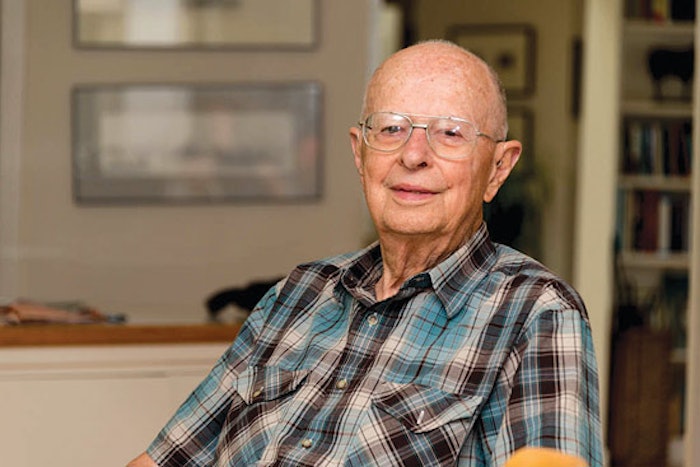 Stanley Earl Allured, Cosmetics & Toiletries (C&T) and Perfumer & Flavorist (P&F) magazines founder, as well as owner of Allured Business Media, died peacefully with his family around him on Sunday, Dec. 15, 2013. He was extremely vibrant and active in his community in Wheaton, Illinois, up until his death, and was a man who gave unconditionally to many. He will be greatly missed by all.
Stan was a decorated veteran of World War II and joined the family publishing business in 1949, which had been founded by his father, Earl R. Allured, in 1921. It was Stan who assumed the management of C&T and P&F precursor The American Perfumer following the family's acquisition of the publication in 1960. In subsequent years, he would become a well-liked and respected industry fixture around the globe, and an active participant in key industry organizations in the cosmetic, flavor, fragrance and aromatic ingredient industries.
Stan was accepted as an active member of the Society of Cosmetic Chemists (SCC) in September 1965, a category typically reserved exclusively for individuals carrying chemistry degrees. The exception was made for Stan in recognition of his support of the industry.
He started publishing lots of news about those societies, and they decided, "Hey, we've got to have him at every meeting." Stan once told Jeb Gleason-Allured, his grandson, mentee and editor in chief of P&F. "Of course, I wasn't eligible for membership, but they gave me an honorary membership."
He eventually attended meetings of the International Federation of the Societies of Cosmetic Chemists, traveling with his wife and partner at Allured Publishing (precursor to Allured Business Media), Betty Lou Allured, and meeting cosmetic chemists from societies throughout Europe, Asia and South America.
Stan was editor, publisher, president and owner of Allured Publishing for more than 50 years. He loved publishing and the industries he served. He was an honorary member of the American Society of Perfumers, was active in key events and, because of his many contributions to the industry, he was the only person elected president of the SCC who did not hold a chemistry degree. He also was bestowed with the Society's Merit Award.
Stan was a firm believer in the value of sharing information openly and globally. Applying his insatiable curiosity, inventiveness and practical know-how, he built a network of trade publications that now services the flavor, fragrance, cosmetics, beauty, personal care and spa industries, in addition to a rapidly expanding events division.