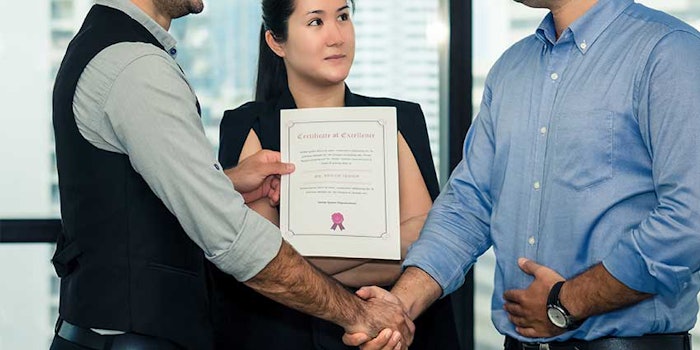 During the 2019 IFSCC Fall Praesidium Meeting, society leaders unanimously agreed to begin bestowing the title of 'IFSCC Fellow' as an honorary designation.
 Related: Last Call to Present: SCC 74th Annual Scientific Meeting
This designation is reportedly to, "recognize members of the IFSCC who have achieved full maturity in their profession as evidenced by a record of outstanding achievement in the field of cosmetic science, and leadership and service to the IFSCC"—with no duties or responsibilities required.
Fellows will be introduced at the annual IFSCC Congress or Conference and presented with a custom calligraphed certificate.
At the 2019 IFSCC Milan Council Meeting, the first class of IFSCC Fellows was announced and will be presented with their certificate at the IFSCC 2020 Yokohama Congress:
Previously: BASF on Quorum Quenching, Subcritical Water Extraction and More at IFSCC 2019
Nominations for IFSCC Fellow may be proposed by either IFSCC Member Societies or by individuals. Candidates must have the following qualifications:
An active membership in an IFSCC Member Society for at least 10 consecutive years.
A baccalaureate degree (or similar) from an accredited college or university.
A minimum of 10 years work experience past the baccalaureate degree, in scientific or technical positions related directly to cosmetic science.
Significant service to the IFSCC.
And at least one of the following:
1. 10 or more scientific publications and/or granted patents pertinent or directly related to cosmetic science, consisting of original articles or review articles in peer-reviewed journals and/or textbooks.
2. At least five pertinent publications in peer-reviewed journals or at least five patents.
To nominate someone for IFSCC Fellow, contact IFSCC secretary general Mary Lynn Halland for details at [email protected].