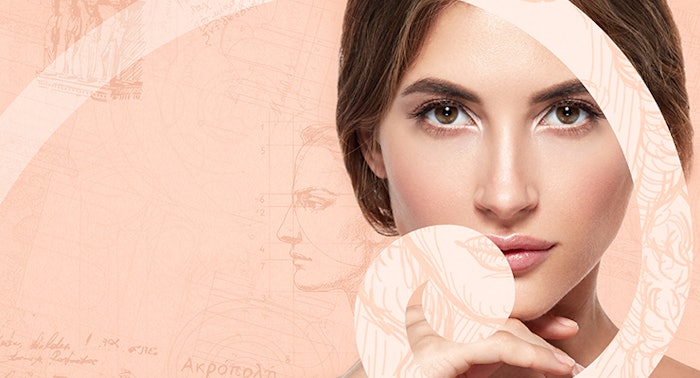 Image source: Lubrizol Life Science–Beauty (LLS Beauty)
Lubrizol Life Science–Beauty (LLS Beauty) has introduced its Telophi (INCI: Not Provided) biotech ingredient, which helps restore the face to "Phi of beauty" proportions and symmetry (also known as the "golden ratio"). Telophi and another recently launched ingredient, PemuPur START, will be showcased at in-cosmetics Global 2022, along with Lubrizol's artificial intelligence (AI) collection, #skincaringmakeup.
Previously: Lubrizol Generates Consumer Trends, Industry Opportunities with Foresee Lab
Telophi 
According to LLS Beauty, the golden ratio is a blueprint for the ideal harmony of facial proportions, which inspired the creation of Telophi. Represented by the Greek number phi, the ratio has been used in art, design and architecture to create "beautiful" objects.
Telophi is a biotechnological extract obtained from a Bacillus sp. isolated from the Florida Keys. It protects telocytes and proliferating epidermal stem cells from psychological stress to help preserve the skin's organization.
The natural balance in facial proportions can be altered by aging and by psychological stress via the stress hormone cortisol, which harms skin cells in multiple ways.
Telophi has been shown in vitro to boost 19.6% of telocyte skin cells, which are crucial to repairing skin structure and guarding against the damage inflicted by cortisol.
Two in vivo studies were carried out in women 35-50 who applied a cream containing 2% of the biotech ingredient or a placebo cream twice a day for 28 days. Results showed that facial proportions were brought closer to the phi ratio through firmer skin and a lifting effect after 28 days; the symmetry of the facial oval contour improved by 6.3%; and luminosity increased by 13.9% and became more uniform after 14 days. Additionally, wrinkle appearance also decreased.
Telophi is appropriate for daily facial skin care products that protect the skin from the damage caused by psychological stress and for cosmetic formulations that improve skin appearance.
In appreciation of the ingredient's source and to help restore the ocean's harmony, LLS Beauty has donated to the Coral Restoration Foundation, the biggest coral reef restoration effort on the planet. It's headquartered in the Florida Keys, where the Bacillus species for Telophi biotech ingredient was isolated.
PemuPur START 
PemuPur START (INCI: Microcrystalline Cellulose (and) Sphingomonas Ferment Extract (and) Cellulose Gum) polymer is a natural-derived polymeric emulsifier that enhances product sensory attributes.
As previously reported, PemuPur START is a high-performing emulsifier and a rheology modifier, suspending agent and thickener. 
It also imparts a refreshing texture, which makes it a founding solution from which to start building o/w emulsions. These characteristics, coupled with its limited surface activity, are said to support the creation of mild, fluid and sprayable emulsions suitable for all skin types, including sensitive skin.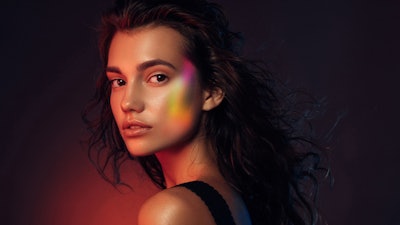 #skincaringmakeup Collection
Lubrizol's #skincaringmakeup collection, coming to in-cosmetics Global, combines skin care and color cosmetics with AI insights to deliver on the beauty industry's current trends.
The #skincaringmakeup formulations include different types of products, textures, shades and applications, entailing 12 makeup formulations for the face, eyes and lips.
Each formulation is made with the company's active and functional ingredients, and formulated to deliver benefits important to consumers.