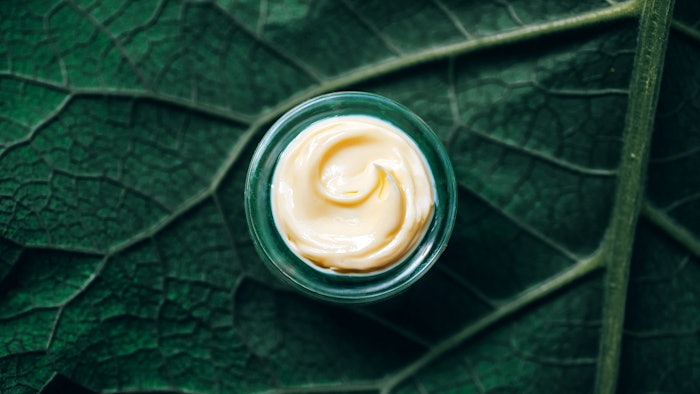 Image source: Berg+Schmidt
Berg+Schmidt will be showcasing its latest generation of lipid-based delivery systems during in-cosmetics Global, to be held April 5-7, 2022, in Paris.
Previously: Berg + Schmidt Hypes BergaCare Naturals at in-cos Global
The BergaCare SmartLipids Bakuchiol will extend the range of advanced carrier systems for time-release delivery and improved penetration of anti-aging and anti-wrinkle actives. BergaCare SmartLipids Bakuchiol encapsulates bakuchiol, extracted from the seeds of the Psoralea corylifolia plant, which according to the company, not only offers anti-aging benefits, but also restores the skin's barrier and has formulation advantages, even in aqueous applications.
Combining natural ingredients with science, Berg+Schmidt also will highlight innovations within its cosmetic portfolio. The extended BergaCare FG range focuses on natural silicone alternatives with high volatility and sensory properties for enhanced skin care products. BergaCare FG M 12 (INCI: Coco Caprylate/Caprate (and) Dodecane (and) Citrullus Lanatus Seed Oil) contains Kalahari melon seed oil. This vegetal oil is said to provide a light skin feel and is rich in essential fatty acids and vitamin E for improved skin elasticity; in addition, its linoleic acid acts as a precursor for ceramides to help rebalance and moisturize the skin barrier.
BergaCare FG L 11 (INCI: Undecane (and) Tridecane (and) Hydrogenated Olive Oil Unsaponifiables (and) Coco-Caprylate/Caprate) is a light and dry natural emollient blend designed to leave skin feeling soft and nourished. According to the company, it has applied for COSMOS approval for both BergaCare FG variants. Furthermore, members of Berg+Schmidt's cosmetic esters and basic oleochemicals teams will be available during in-cosmetics to explain and demonstrate the diversity of these raw materials for various personal care applications.
"Today's consumers are seeking smart cosmetic products that not only offer immediate results but are also natural, which is a major challenge for formulators and R&D specialists," said Kristin Köhler, division manager of cosmetics. "Therefore, we have focused our efforts and activities on healthy skin and sustainable raw material solutions. In recent years, we have reinforced our scientific research and we are pleased to present our new in-demand solutions in Paris this spring."