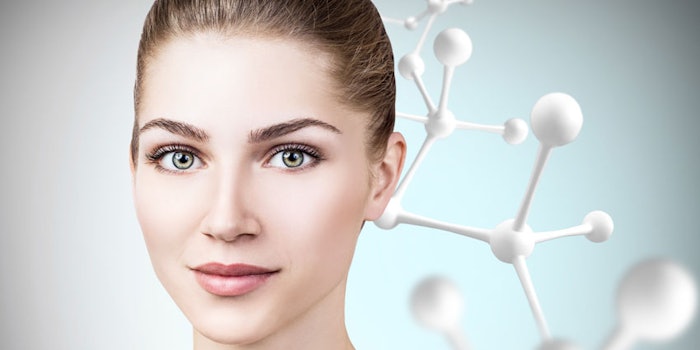 Berg + Schmidt underlines its focus on 'naturalness above all else,' and will illustrate this commitment with several BergaCare-brand products for skin and hair care—to be presented at in-cosmetics Global. 
Offerings will range from lipid encapsulates carrying actives, e.g., ceramide, to strengthen the natural skin barrier; a natural olive-based alternative to silicones for skin and hair formulations; and purified glycolic acid for benefits in hair care.
Ceramide and Lipids Reinforce Skin Barrier
BergaCare SmartLipids (INCI: Varies) are a transport system of solid and liquid lipids designed as a matrix and embedded with actives to improve the skin barrier. The company explains, by controlled diffusion, the actives leave the matrix and take effect over an extended period of time. The matrix serves to increase the penetration of active substances, whereas the contents aim to strengthen the natural skin barrier. 
Ceramide has now been added to the SmartLipids system, and is reportedly ideal for dry, aging skin and skin prone to atopic dermatitis. The resulting ceramides, sterols and fatty acids mixture mimics the skin's own barrier substances. The high concentration of valuable ceramides therefore helps to restore the natural skin barrier and combat the loss of moisture and elasticity, the company reports.
The ready-to-use aqueous suspension is designed to be added easily to formulations. The ingredients are natural, odorless and white, and the company also notes the product will also be exhibited in the Innovation Zone. 
Olive Alternative to Silicones
BergaCare FG Olive (INCI: Ethylhexyl Palmitate (and) Ethylhexyl Stearate (and) Hydrogenated Olive Oil Unsaponifiables (and) Caprylic Capric Triglyceride) was developed to address the demand for environmentally conscious products. Offered as an alternative to D4 and D5 silicones, the product is a mixture of ester oils and unsaponifiable substances obtained from olives. The feel is reportedly similar to that of cyclopentasiloxane; i.e., smooth and silky.
BergaCare FG Olive can be used as an emollient in skin and hair care formulations. The colorless and odorless liquid contains no preservatives or other additives and is reportedly biodegradable. According to the company, the product can be worked into formulations in a cold state and is compatible with most cosmetic ingredients.
Glycolic Acid Hair Conditioning
In addition to BergaCare offerings, Berg + Schmidt will showcase a highly purified glycolic acid. GlyAcid (INCI: Glycolic Acid (and) Water (Aqua)) has been shown to impart positive effects in hair, as will be explained by Sabilla Digel, Ph.D., of Berg + Schmidt, both at the booth and during a technical seminar.  The seminar, "The new hair care beauty routine with glycolic acid–GlyAcid for beautiful hair," will take place on Wednesday, April 1, 2020, from 14:00-14:30 (2:00-2:30 p.m.) in Theater 1.
As the company reports, glycolic acid is perhaps the best known and smallest of the alpha hydroxy acids (AHAs). So far, it has proven especially effective in chemical peels but here, its use in hair care will be featured; e.g. for improved combing, heat resistance, and increased strength and gloss. Thanks to a unique saponification and purification process, it is free from formaldehyde and other harmful impurities. This particular glycolic acid is manufactured by the company CrossChem but sold in Europe by Berg + Schmidt.
For more information, visit the Berg + Schmidt website or booth Q80 during in-cosmetics.