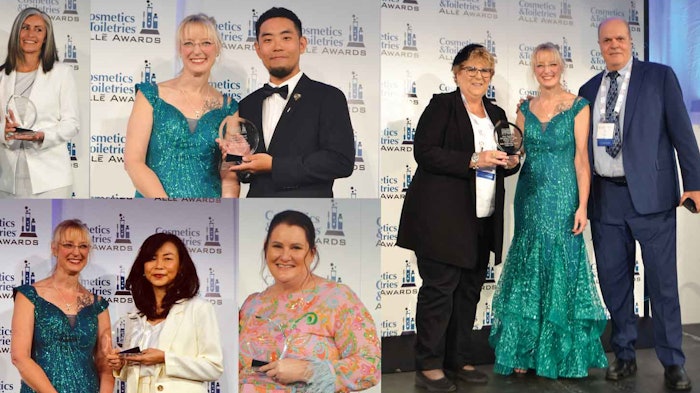 Your entire product development team has worked for months — sometimes years — on your latest and greatest cosmetic R&D innovation(s). The Cosmetics & Toiletries (C&T) Allē Awards celebrate these achievements by bringing behind-the-scenes ingenuity into the spotlight. 
"[It's] like a Nobel Prize for cosmetics," "It has absolutely meant the world," and, "To say that we are surprised that we won the award is an understatement," are some of the comments we received from the last round of award recipients (2022). Does your innovation have what it takes to join them?
Enter the C&T Allē Awards to find out. Renewed submission deadline: Sept. 7, 2023.
Past Winners
Past* C&T Allē Award winners for Finished Formulas include: Yves Saint Laurent Beauté, Belcorp, Kao Brands Co., Procter & Gamble, PZ Cussons, Iredale Mineral Cosmetics, AmorePacific, Shiseido, L'Oréal, Clean O2 Carbon Capture Technology, Codex Labs, Raaka's World, Sage & Ylang Redefining Beauty, Tosla Nutricosmetics, Roccoco Botanicals, Good Chemistry, Abetyu' Naturals by Shaman Productions, DECIEM, Winnox Cosmeceuticals, Shiny Brands Group/Dr. May, SNF Personal Care, DermaRx Laboratories, NuSkin, Lashliner, Inc., Nutrafol, Orpheus Skin Essence and Cosmax Inc.
Ingredient C&T Allē Award recipients have included: RAHN AG, Lubrizol, Seppic, Solésence, Premium Organic, Vantage Personal Care, Miyoshi America, Inc., P2 Science, Inc., Biosynthetic Technologies, Nouryon, Sederma, Clariant, Korea Particle Technologies, Dow Corning Corp., BASF, Berg & Schmidt, Presperse, Ashland, Croda, RBT, a Syneron Company, DSM
Introduced in 2022, the C&T Allē Award for Testing Method/Tool went to Sequential Bio.
Also new in 2022, the C&T Allē Awards for Digital Technologies went to: Aedit and Goldn USA.
New for 2024, we've expanded the program to include Chassis/Blends of synergistic ingredients and Devices. We've also rearranged product categories to highlight Natural/Bio-derived entries.
*Also previously known as the C&T R&D Awards and the International Technology Awards.
Eligibility and Requirements
Entries for the 2024 C&T Allē Awards must have been launched (or implemented, in the case of testing methods) between June 1, 2022 and Oct. 31, 2023. Note that you can submit ahead of your launch. 
Paid submission fees ($425/entry) and supporting documentation are required for each entry. Entries will be rated by an esteemed panel of judges based on supporting documents showing: 1) novelty, 2) utility and/or multifunctionality, 3) sustainability (where relevant), 4) safety/stability/proof of efficacy, 5) ingredient disclosure (only required for formulas/chassis), 6) demo videos/url links (where relevant) and other elements.
Winner and Finalist Recognition
The 2024 C&T Allē Awards dinner celebrating the winners and finalists will once again be co-located with our Beauty Accelerate event, to be held from March 6-7, 2024, at the Millennium Biltmore in Los Angeles. The exclusive, red-carpet style awards dinner will take place the evening of March 6, 2024, also at the Millennium Biltmore.
Finalists and winners will be recognized across all C&T multimedia platforms and will receive invaluable expert insights about their product or innovation. Winners will receive one team award and be profiled in the magazine. Note that additional licensing fees apply to use of the C&T Allē Awards logo.