Submit now for the 2024 Cosmetics & Toiletries (C&T) Allē Awards — featuring new submission types and categories! See below for details.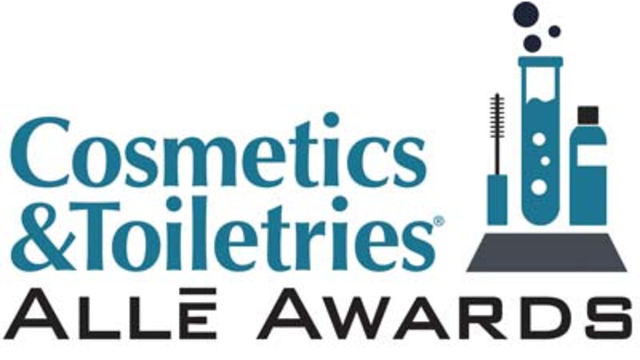 New Deadline: SEPTEMBER 7, 2023 - Enter Now!
Submission Fee: $425
What are the C&T Allēs? 
The C&T Allē Awards, presented by C&T and parent company Allured Business Media, bring behind-the-scenes ingenuity in cosmetics and personal care R&D into the spotlight. 
The Allēs honor the scientific discipline, formulating skills, resourcefulness and creativity of innovators throughout the cosmetic product development process—from ingredient suppliers and finished product manufacturers, to test method/tool designers, digital tech developers and more.
New Submission Types
"I'm thrilled that we've expanded our submission types this year to include two new areas of innovation: chassis/blends and devices," said Rachel Grabenhofer, managing scientific editor, Cosmetics & Toiletries. 
"Supplier companies have worked so hard to design and/or pair technologies that work synergistically together; not as complete formulas but as unique chassis/blends to catapult product development forward for manufacturers. We want to give them a stage to showcase this ingenuity," she added.
"Devices were another clear area of innovation that didn't quite fit the existing entry types," Grabenhofer continued. "In fact, we had requests from entrants to add this category for 2024. . . so we've responded, and I'm excited to see the response." See below for the full list of entry types.
New Categories
"In addition to new entry types, we've re-worked the product categories for ingredient, chassis/blends and formulation entries," Grabenhofer explained. "We previously had nine categories; now we have ten—including one honoring natural/bio-derived innovations. Notably, we see this category as specific to the entry's origin, since sustainable/eco-friendly actually fits all the categories," she added. See below for the full list of categories.
New Deadline: SEPTEMBER 7, 2023 - Enter Now!
Entry Types/Categories
Entry Types:
Active and base cosmetic ingredients
New! Chassis/blends
Finished formulas - indie, mass and prestige categories
Testing methods and tools
New! Commercial devices
Digital technologies - consumer (B2C) and industry (B2B) categories
Categories:
Anti-aging
Bath & Shower
Color Cosmetics
Hair & Scalp Care
Microbiome Focused
New! Natural/Bio-derived
 Nutricosmetics
Skin Care
Sun/Light Protection
Toiletries (Hygiene, AP/Deo, Oral Care & Intimate Care)
Entry Fees 
$325 Early Bird (ended 6/19)/$425 Standard (through Sept. 7, 2023)
Judging 
Entries will be rated by an esteemed panel of judges based on the supporting documents provided by entrants. Parameters reviewed will include (where relevant): novelty, utility and/or multifunctionality, sustainability, safety/stability/proof of efficacy, ingredient disclosure, demo videos/url links.
Eligibility 
Entries for the 2024 C&T Allē Awards must have been launched or initially implemented between June 1, 2022 and Oct. 31, 2023. (Note: You can submit ahead of your launch). Paid submission fees and supporting documentation are required for each entry.
Awards Dinner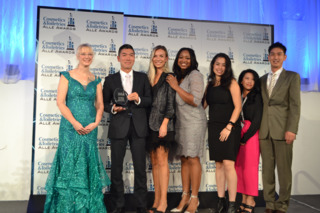 The 2022 Cosmetics & Toiletries Allē Awards brought behind-the-scenes ingenuity in cosmetics and personal care R&D into the spotlight
The 2024 C&T Allē Awards dinner celebrating the winners and finalists will once again be co-located with our Beauty Accelerate event, to be held from March 6-7, 2024, at the Millennium Biltmore in Los Angeles. The exclusive, red-carpet style awards dinner will take place the evening of March 6, 2024, also at the Millennium Biltmore.
Check out the 2022 photo gallery.
Winner/Finalist Recognition
Finalists and winners will be recognized across all C&T multimedia platforms and will receive invaluable expert insights about their product or innovation. Winners will receive one team award and be profiled in the magazine. Note that additional licensing fees apply to use of the C&T Allē Awards logo.
Questions?
For questions regarding C&T Allē Awards entries, please contact Rachel Grabenhofer, managing scientific editor, Cosmetics & Toiletries, at rgrabenhofer@allured.com or 1-630-344-6072.
New Deadline: SEPTEMBER 7, 2023 - Enter Now!
Past Winners
Check our this esteemed list of past winners:
Finished Formulas: Yves Saint Laurent Beauté, Belcorp,  Kao Brands Co.,  Procter & Gamble, PZ Cussons, Iredale Mineral Cosmetics, AmorePacific, Shiseido, L'Oréal, Clean O2 Carbon Capture Technology, Codex Labs, Raaka's World, Sage & Ylang Redefining Beauty, Tosla Nutricosmetics, Roccoco Botanicals, Good Chemistry, Abetyu' Naturals by Shaman Productions, DECIEM, Winnox Cosmeceuticals, Shiny Brands Group/Dr. May, SNF Personal Care, DermaRx Laboratories, NuSkin, Lashliner, Inc., Nutrafol, Orpheus Skin Essence, Cosmax Inc.
Ingredients: RAHN AG, Lubrizol, Seppic, Solésence, Premium Organic, Vantage Personal Care, Miyoshi America, Inc., P2 Science, Inc., Biosynthetic Technologies, Nouryon, Sederma, Clariant,  Korea Particle Technologies, Dow Corning Corp.,  BASF,  Berg & Schmidt, Presperse, Ashland, Croda, RBT, a Syneron Company, DSM
Testing method/tool: Sequential Bio
Digital technology: Aedit and Goldn USA
*Previously known as the C&T R&D Awards and the International Technology Awards