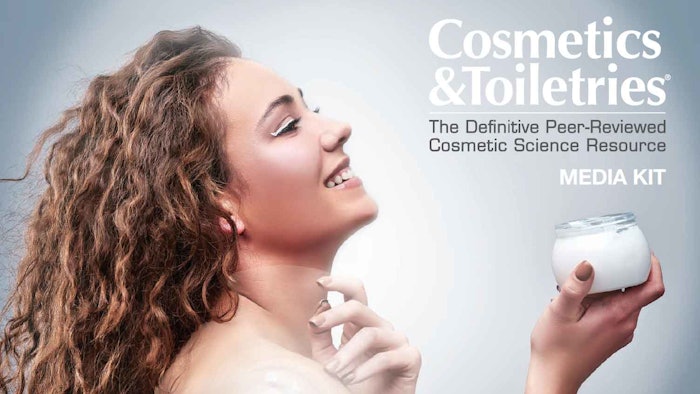 Cosmetics and personal care development is moving full steam ahead, according to Rachel Grabenhofer, Cosmetics & Toiletries (C&T) managing scientific editor. "Hard lessons were learned in recent years that forced us to think differently and deliberately, disciplining us to innovate with excellence," she wrote, in the newly revealed and digitized 2023 media kit.
She added, "...[W]e're successfully adapting to new realities, enabled by technology and driven by changing consumer priorities. Today, suppliers are designing solutions with sustainable credentials, proven efficacy and sensory performance. Marketers are crafting products that embrace ethics, validate value and eliminate excess. C&T aspires to boost all their pursuits with content that informs and excites."
As such, the year 2023 will uncover unprecedented innovation in cosmetic science. It will re-envision cosmetic formulation and enlighten product development in the following monthly highlights and others; we hope you'll join us.
Submit your article or article abstract today, or contact rgrabenhofer@allured.com for more information.
January 2023
Sustainable Formulating (prospective topics: upcycled, biodegradable, low carbon)
Restoring Skin (prospective topics: lipids/ceramides, microbiome balance, anti-stress)
Expert Opinions on Advances in Sustainability
manuscript deadline: (issue closed)
February 2023
Elemental Protection (prospective topics: UV exposure, antioxidants, anti-irritation)
Sensitive Skin Care (prospective topics: anti-inflammation, barrier defense, moisturization)
Expert Opinions on Skin Barrier Protection
manuscript deadline: (issue closed)
March 2023
Biotech in Beauty (prospective topics: bioferments, synbio, probiotics, micronutrients)
Hair Repair/Care (prospective topics: keratin, conditioning, nourishment)
Expert Opinions on Restoring Hair Health
manuscript deadline: (issue closed)
April 2023
Wellness and Self-care (prospective topics: immunity, chronobeauty and longevity, nutricosmetics)
Formulating Color Cosmetics (prospective topics: pigment dispersion, coverage and soft focus, inclusive beauty)
Expert Opinions on Self-care Solutions
manuscript deadline — extended: Dec. 16, 2022
May 2023
Anti-aging and Inflammation (prospective topics: retinol and alternatives, skin brightening, soothing skin)
Scalp Comfort/Care (prospective topics: microbiome, dandruff and itch, sebum/moisture balance)
Expert Opinions on Advances in Anti-aging
manuscript deadline: Jan. 1, 2023
June 2023
Sensory in Hair (prospective topics: softness and shine, textured hair, gentle cleansing)
Skin/Sun Protection (prospective topics: UV, blue light and pollution; antioxidants; microbiome)
Expert Opinions on Photoprotection/Defense
manuscript deadline: Feb. 1, 2023
July/August 2023
Formulating Eco/Ethical Beauty (prospective topics: sustainable and transparent; COSMOS, Natrue and ISO; low water and cold process)
Holistic Skin Care (prospective topics: traditional medicine and aromatherapy, endorphins/cortisol, psychodermatology)
Expert Opinions on Eco/Ethical Beauty
manuscript deadline: March 1, 2023
August 2023 (online only)
Nutritive Beauty (prospective topics: vitamins, minerals and phytonutrients)
Expert Opinions on Nutrition and Beauty
manuscript deadline: May 1, 2023
September 2023
Compromised Skin Care (prospective topics: mild and microbiome-friendly, barrier repair, anti-acne)
Formulation Optimization (prospective topics: rheology, stability and preservation; minimalism and ingredient synergies; delivery)
Expert Opinions on Compromised Skin Care
manuscript deadline: May 1, 2023
October 2023
Well Aging and Femcare (prospective topics: radiance, pores and texture; intimate cleansing; sexual wellness)
Hair Care and Protection (prospective topics: thermal and pollution protection, mild surfactants, repair ingredients)
Expert Opinions on Wellness and Femcare
manuscript deadline: June 1, 2023
November/December 2023
Body Care and Hygiene (prospective topics: emollients, anti-cellulite and firming, oral care and microbiome)
New Waves in Beauty (prospective topics: regenerative skin care, zero waste, interactive and hyper personalized products)
Expert Opinions on Body Beauty
manuscript deadline: July 1, 2023
December 2023 (online only)
Formulating Sensory Effects (prospective topics: skin feel, color and fragrance, phase-change and textures)
Expert Opinions on Sensory Performance
manuscript deadline: Sept. 1, 2023