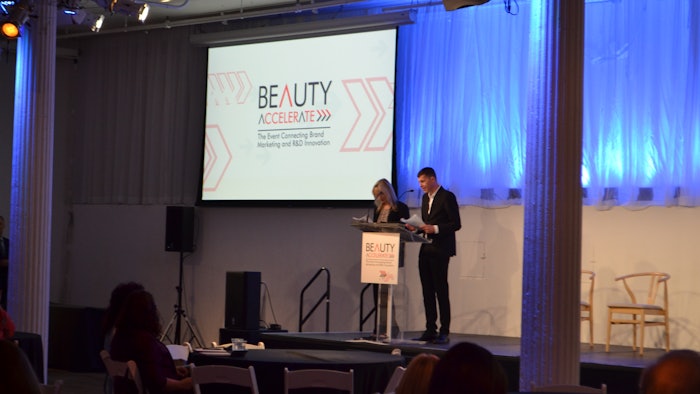 Connections between influencers, cosmetics R&D innovators, contract manufacturers, ingredient suppliers, packagers, marketers, brand managers and others were positively electric at Beauty Accelerate 2022, held Sept. 28-29, 2022. Attendees connected in person for the first time since the last 2019 event, generating ideas from key newsmakers in the industry.
See related: Wellness by Design; Positive Comparison Patterns to Engage Latin American Consumers Through Fragrance
Day One: Tech Briefing
Day one, the "Tech Briefing" focused on the science, with talks ranging from technology to accelerate beauty innovation, waterless formulating, regulatory challenges and the opportunities they present, certifiable sustainability, hair repair, formulating for skin immunity, the skinification of hair, neuromarketing and more.
For example, in terms of the latter, John Jiménez, of Belcorp, presented about the influence of emotions on age perception. He showed a series of images of a woman making different facial expressions, revealing happier expressions were ranked younger by panelists.
In addition, according to Jiménez, new work is revealing how fragrance can affect autism. "A study found that aromatherapy (with lavender) improved some communication skills of children with autism; they were calm and settled," he said. Fragrance also was found to decrease hyperactivity, anxiety and attention deficit. This area was presented as part of the overall "sensory friendly" movement, inclusive of those with disabilities.
A full house of attendees actively engaged in Q&A sessions, the boutique exhibition and networking breaks, taking away actionable insights for practical application. The evening ended with a celebratory cocktail reception, rolling into the inaugural Cosmetics & Toiletries Allē Awards dinner, celebrating behind-the-scenes ingredients, testing methods/tools, formulas, digital tech and more.
Cosmetics & Toiletries Allē Awards Dinner
"Good evening, innovators!" Rachel Grabenhofer, managing scientific editor of Cosmetics & Toiletries, said. "... I welcome you to our inaugural Cosmetics & Toiletries Allē Awards Dinner. This dinner is about you–the best of the best–who put their mind, heart and soul into creating breakthrough and beloved cosmetics and personal care products."
She added that these behind-the-scenes efforts sometimes feel thankless but are critical to creating safe, effective and esthetically pleasing products–and they deserve their time to shine. "For these reasons and others, Cosmetics & Toiletries and our parent company, Allured Business Media, proudly introduce the C&T Allē Awards–the 'Oscars' of beauty innovation, to honor you."
She invited attendees to join her in a toast to all innovators, whose ingenuity inspires the future of beauty. Winners awarded for top overall rated active ingredients, base ingredients, testing methods and tools, digital tech/apps and formulas in indie, prestige and mass markets, were brought into the spotlight, punctuated by applause and audience cheers. In addition, merits were presented to innovations rating highest in one given parameter within a category.
Day Two: Brand Innovation
Day two, the "Brand Innovation" sessions, starred influencers and pioneers in the beauty industry, who shared tips, tricks and lessons learned along their routes to success. Attendees lined up for the opportunity to engage with these renowned innovators disrupting the industry.
See related: Beauty Trends Driving Growth; Macro Level, Skin Care, Makeup, Hair, Fragrance & 2023 Outlook
For instance, Olivia Stelmaszczyk, research analyst at Euromonitor, presented on the Gen Z consumer. According to Stelmaszczyk, Gen Z links beauty with intrinsic values, holistic health and emotional wellness. "Gen Z prefers minimalistic daily beauty routines, but uses expressive makeup occasionally . ...As digital natives, their consumer journey takes place via smartphones ... and Gen Z has a looser perception of traditional gender norms," she said.
Throughout the two days, an intimate, boutique-style exhibition effervesced with solutions for future innovations and planted seeds for ideas yet to come. Beauty Accelerate 2022 closed with an evening cocktail reception joining new friends and old with an exciting outlook for the future and beauty better.