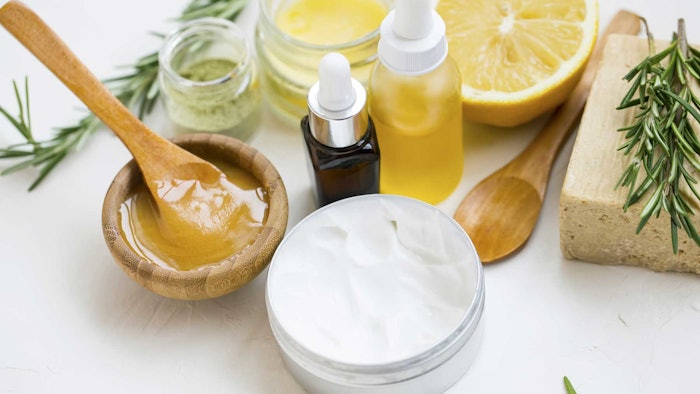 Next month, Cosmetics & Toiletries (C&T) will excitedly present the C&T Allē Awards during an exclusive Awards Dinner, to be held on Sept. 28., 2022, at the Metropolitan Pavilion in NYC.
Co-located with Beauty Accelerate, the Awards Dinner will give innovations ranging from cosmetic ingredients and product formulas, to digital technologies and test methods their time to shine.
>>> Register by Aug. 26 for the Beauty Accelerate Early Bird rate.<<<
Who will win? The competition was close, and this year's contenders were put through a grueling review by our esteemed panel of judges. Check out these finalists in the "finished formula—indie" category, which includes both commercial and contracted formulations.
Clean O2 Carbon Capture Technologies Inc.: CleanO2 Soaps
These soaps enable consumers to take direct action on climate change. The bars contain carbon captured from carbon dioxide. This greenhouse gas, produced by natural-gas heating appliances in commercial buildings, is captured by the company and turned into pearl ash, which gives the handmade products a silky lather. Additional ingredients in the soap are natural and sustainably sourced.
Codex Labs: Codex Labs Antu Brightening Serum
This brightening serum is antioxidant rich and clinically proven to redensify and thicken the epidermis and undo skin barrier damage from stress, sun exposure and pollution. The serum uses a patented protective formulation comprising bioactives from three powerful anti-inflammatory Patagonian plants: Matico, Maqui and Murtilla. Additionally, hibiscus helps to smooth expression lines; cherimoya soothes redness; and Entadine protects cellular DNA against environmental stressors.
i-On by Dr. Xi: i-On Age Disrupting Skin Cream
This product is designed to remove excess iron accumulation from the skin, which according to the company, is scientifically proven to be the root cause of free radical damage that leads to skin aging. Powered by a patented DII (de-ionizing inducer) Technology, it is said to surpass antioxidants as the best defense against signs of aging. In a 42-day clinical study, 100% of users reported skin looked and felt softer and more hydrated, and 84% stated that fine lines and wrinkles noticeably diminished.
Raaka's World: Flourish Scalp Serum
This lightweight serum is designed as a multi-purpose solution to help with scalp issues such as dryness, itch and thinning hair. It can help boost hair growth and balance an overly greasy scalp. The product is formulated with a blend of nutrient-rich, 100% organic oils, including marula, golden jojoba, blackseed and amla. It is said to easily absorb into the scalp and boosts overall scalp health. Lavender and rosemary scents adds a relaxing element.
>>> Register by Aug. 26 for the Beauty Accelerate Early Bird rate.<<<
Sage and Ylang Redefining Beauty: Sage and Ylang Microbiome Series
Developed through a collaboration with researchers from Singapore's A*STAR science institution, and scientists of MyMicrobiome and Sequential Bio, this finished microbiome product series includes a gentle face cleanser, beauty essence and aoothing moisturizer. The products were tested and validated to be skin microbiome friendly, to increase skin microbiome diversity, and to increase the "good" bacteria and reduce the "bad" bacteria.
Tosla: Premium Collagen Formulation with Velious Masking Technology
This high-performing liquid collagen formulation contains collagen peptides, methylsulfonylmethane (MSM) and vitamin C for the beauty sector. The product promotes the synthesis of collagen and elastin fibers in the dermal layer of the skin. It has been shown to deliver an increase in dermal density after 12 weeks of supplementation. Furthermore, the company's masking technology enables the combination of collagen and MSM in a liquid format to deliver a convenient and unique tasting experience.
Roccoco Botanicals: Ruby Crystal Cleanser
Designed to replenish vital essential fatty acids and accelerate skin repair, this gem-infused cleanser reduces the appearance of inflammation and discoloration in skin. According to the company, visible results are delivered after just one use.