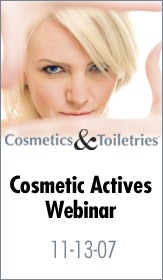 Actives are some of the hottest ingredients in personal care and their evolution is constantly progressing. Catch up on the latest in current actives and their delivery by logging on to attend C&T magazine's free Cosmetic Actives webinar from the most efficient place you know--wherever you are!
This webinar will feature industry experts Mindy Goldstein, PhD, of Estée Lauder as moderator; Karl Lintner, PhD, of Sederma on current actives and their mechanisms of action; and Johann Wiechers, PhD, of JW Solutions on the delivery of actives. Following the presentations, there will be a short discussion on the topic.
The webinar will take place Nov. 13, 2007, at:
10:00–11:00am Central
11:00am–12:00pm Eastern
16:00–17:00 Western Europe
17:00–18:00 Central Europe
It's not too late—register to join our Cosmetic Actives webinar on November 13. It's convenient, it's easy and it's free!