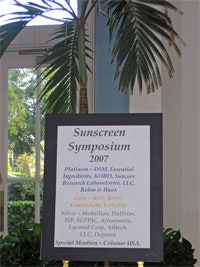 The Florida Chapter Society of Cosmetic Chemists (SCC) kicked off with a splash as free sunscreen courses on the first day drew in more than 250 attendees; and today, the first day of conferences, it was announced by Guy Padulo, SCC national president, that the event has almost reached 400 attendees.
The event, being held Sept. 6-9, 2007, at Disney's Yacht Club resort, the 2007 Sunscreen Symposium will surely stir the sun care industry. This is heavily in response to the recent US Food and Drug Administration's (FDA's) announcement of new proposed sunscreen regulations. Registration buzzed with excitement as sun and skin specialists from around the world debated what the new regulations will mean and how to interpret them.
In fact, within the last few weeks, organizers saw a leap in registrants generated for the symposium--and with such a response, a talk was added to the lineup to cover just the new FDA proposal: David Steinberg of Steinberg & Associates will speak from 11:00-12:00am on Sept. 9 to hopefully clear up what the FDA has brought to the industry's table.
When C&T asked Steinberg about the FDA's new proposal, he basically said it was about time. "The FDA has done a very thorough and complete job of researching methodologies," Steinberg told C&T magazine. "He has given the industry the opportunity to claim an SPF of 50 or 50-plus, although there are many new labeling changes." Watch for his December 2007 "Regulatory Review" column in Cosmetics & Toiletries magazine for an overall view of the new ruling.
---
Sept. 9:  Sunday's talks opened with a poster session and networking brunch, the same room in which all presentations took place.
Niven R. Narain spoke from the
University of
Miami on CoQ10 and how it is being used to induce apoptosis in melanoma cells to treat skin cancer; other cancers have also been studied and those were treated topically as well as intravenously.
Also from the U of Miami, Indushekhar Persaud discussed various skin care topics including hydroquinone and other skin lighteners (ascorbic acid, Vitamin C, and triretinoic acid), among other topics.
Finally, David Steinberg closed the event with a talk added on specifically to discuss the changes in FDA's sunscreen regulations. Steinberg first plead, "Don't shoot the messenger." The biggest FDA changes relate to testing requirements and labeling. The FDA now requires companies to run both in vitro and in vivo tests. In addition, SPF now means sunburn protection factor on the label, and a new four-star rating system will be used to make the claimed protection on a product easier for consumers to understand. One star would represent low UVA protection, two stars would represent medium protection, three stars would represent high protection, and four stars would represent the highest UVA protection available in an OTC sunscreen product. If a sunscreen product does not provide at least a low level (one star) of protection, FDA is proposing to require that the product bear a "no UVA protection" marking on the front label near the SPF value. 
In addition, a "Warnings" statement in the "Drug Facts" box will be required of all sunscreen product manufacturers. The warning will say: "UV exposure from the sun increases the risk of skin cancer, premature skin aging, and other skin damage. It is important to decrease UV exposure by limiting time in the sun, wearing protective clothing, and using a sunscreen." The warning is intended to increase awareness that sunscreens are only one part of a sun protection program.
     "The FDA has done a very thorough and complete job of researching the methodologies," Steinberg said. He added, "They also have given the industry an opportunity to claim an SPF of 50 or 50-plus--something for which [the industry] has been asking." Watch for his December 2007 "Regulatory Review" column in Cosmetics & Toiletries magazine for a more detaile, overall view of the new ruling.

 

 
---

Sept. 8: On Sept. 8, the day opened with moderator Gary Agism, in his bold and colorful vest, introducing the day's first speaker, Helena Gonzalez, MD, PhD, a dermatologist from , who discussed absorption on Benzophenone-3 into the body.
Gonzalez covered some key points, first some history: Johan Ritter first discovered radiation in 1801 and Niels Finsen was the father of phototherapy. She then delved into the sunscreen-specific portions of her talk, first criticizing the 2mg/cm2 test amount used in labs to determine SPF--first making the disclaimer that she's a dermatologist so this is her perspective, but stating that: "spending money to educate the consumer to use this amount is a waste; it's a ridiculous amount to test SPF—I don't think that any of us use this amount."
     Her study showed how finished sunscreens taken off of store shelves and used by volunteers were found to leave rather significant amounts of benzophenone-3 in their urine samples. "I don't think it's a risk in general," said Gonzalez, "but children under three shouldn't have sunscreens applied to them containing benzophenone-3 because their systems are still developing and it could build up in their bodies." Stabilization was also considered and she commented that, "you cannot predict whether a sunscreen is photostable by the individual ingredients; the entire formula must be considered."
Pat Aikens (BASF) tested two filters (inorganic ZnO and DHHB or diethyl hydroxybenzoyl hexyl benzoate). She described how UVB is made of shorter wavelengths and causes the most damage in the epidermis—sunburn, erythema, immunosuppression; whereas UVA is a longer wavelength and penetrates deeper into the dermis, affecting collagen and causing photoaging.
     Aikens explained that when a consumer is overexposed to UV, the UV does not actually destroy the collagen in the skin itself, but causes the overexpression of MMPs that begin to digest the elastin and collagen, leading to wrinkles. Studies were thus designed to see how the UVA filters affected inflammatory responses and photoaging.
     Researchers found that 1 dose of UVA led to increased markers for photoaging, oxidative stress and inflammation. They also found it interesting that ZnO worked as well as the DHHB and hypothesized that ZnO may have more of a physiological/systemic effect
Christine Mendrok-Edinger discussed choosing the correct TiO2 from those available on the market. She commented that the structure, particle, size and coatings all differ in the choices on the market. TiO2 comes in two structures: anatase and rutile. Generally there are three choices in the use of TiO2 in sunscreens--anatase is less stable and will turn yellow; rutile is more stable; or the combination of the two can be used. Different tests, including ascorbic acid, daylight photostability and gas phase detectors were used to show how coatings on these materials differ and these differences can alter formulation performance. Overall, the more perfect the coating, the less chance it will lend to photoreactions.
After a session break, Louis Paul spoke on patents and intellectual property. He noted the different ways patents can be written and described a court battle between Estée Lauder and L'Oréal in which the evidence of whose idea it was first came down to a date written in lab notebooks.
Diane Bilodeau, PhD, discussed addressing neurogenic inflammation in the skin with biomimetic peptides. She commented that nerves are involved in the functions of skin cells. She added that "You will be hearing more about neuropeptides in upcoming years." Bilodeau discussed that UVs and allergens trigger immune cells. She said that cytokines are a connection between neurogenic and immunogenic responses in the skin. Her company has closely been studying peptide sequences and introduced RE-053 [Water (aqua) (and) butylenes glycol (and) dextran (and) palmitoyl-tripeptide-8] for the treatment of inflammation. She added that this peptide is very good for baby care.
Finally, David Steinberg spoke on REACh in relation to UV filters. He commented that those chemicals with an EINECS will be preregistered and those with ELINCS numbers are already "in" the system. The prediction he felt may most impact sun care is that ZnO may not be allowed in personal care. It will be accepted by the EU but for limited use—because there are other choices in the personal care industry for sunscreens. He also commented that the EU is much farther behind in implemented REACh than it had hoped to be and said, "REACh just might implode."


---
Sept. 7:
Sept. 7:
Sept. 7:
Sept. 7: Prior to the featured talks, two of Disney's pretty-in-pink ladies, Trixie and Dixie, stirred the exhibit hall with excitement and their take of cosmetics and chemistry. They kept the day's sessions on track, interacted with guests, suppliers and the organizers alike--taking a special liking to SCC president Guy Padulo.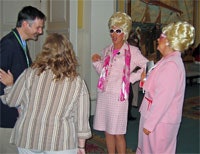 Today's talks opened with a keynote talk from Dan Yarosh, PhD, from AGI  Dermatics "the DNA repairman." Yarosh opened with the remark that the SCC Sunscreen Symposium is a "high watermark for this industry." He gave a background on sunscreens, noting that they originally were intended to simply prevent sunburn but now they are expected to do much more. He contemplated whether the industry is asking too much of sunscreens and telling people too much, complicating the matter. "I say that sunscreens are to stop sunburns," said Yarosh. Yarosh introduced an innovation his company has been working on that is used to speed up DNA repair by introducing more enzymes onto skin.
Craig Bonda of Hallstar Inc. drew the audience to the edge of their seats with an interesting model, trademarked as DEXSTER, that he used to first describe pathways to "deactivate" molecules in an excited state from causing photochemical reactions. He then solved a mystery the industry has been contemplating for some time by introducing a material that can stabilize avobenzone in the presence of octyl methoxycinnamate (OMC)--the new and patent-pending methoxycrylene, which was reported to act similarly to octocrylene. He also added that his company has been working, with a joint effort called Solasil with Tony O'Lenick and Louis Paul, on a new photostabilizing silicone fluid.
Yun Shao of Kobo Products Inc. presented some interesting data on the combination of TiO2 and ZnO that, in the right sizes and proportions, can provide broad spectrum protection with higher SPF levels. He commented that TiO2 should be used for higher SPFs but that it is not ideal for balanced protection; and that ZnO can provide balanced UV protection but not high SPF levels. He described how different particle sizes of each, with adjusted amounts, provides the optimal protection.
Julian Hewitt of Croda Chemicals Europe, discussed an experimental design used to help narrow formulating variables to arrive an ideal formulation sooner. He described how randomized computer generated scenarios can be used to create prediction profiles; then a stepwise selection can be applied to take out factors with the seemingly least effects on the overall sample.
Nadim Shaath of Alpha Research discussed the latest sunscreen filters. He made a few observations such as: UVA energy is weaker than UVB, but if the skin is compromised by the UVB or some other factor, UVA can more easily penetrate. Several new filters were described, including a few in review by the FDA; and in light of the new monograph, several new filters are up for consideration. He cautioned, however, that their acceptance could still take some time. He added that the Time and Extent Application (TEA) process from Europe may be the United States's "savior" in terms of getting new filters approved in the United States. "There's no lack of innovation in the United States," said Shaath, "just strict rules."
The day's session ended with a roundtable discussion, facilitated by David Steinberg, during which experts tore apart comments made in a July 2007 report that aired on a news channel in the United States. Key points that came from this included:
Gavin Greenoak (University of Sydney), re-iterated, "Sunlight is a continuous spectrum. It doesn't have a membrane or line between the UVA or UVB part. It's when these portions are separated that things become problematic. Moderation of all things--including moderation--is key."
Dennis Lott (Hawaiian Tropic) commented on waterproof vs. water-resistant claims and made an analogy to David Steinberg joining the police force and choosing a bulletproof vest: "Do you choose the very bulletproof, bulletproof, or bullet-resistant vest?"
Craig Weiss (Consumer Product Testing) stated simply: "I hope consumers read the label."
Chris Vaughan (SPF Consulting Labs) added again that he felt sunscreen labeling should promote the "percentage [of UV] blocked" to make labels easier for consumers to understand. He also urged, "It is our job, as an industry, in the next 80 days to send comments to the FDA--we need to take part. He also pointed out what he called one of the biggest "secrets" in th monograph: Per the new regulations, the industry cannot make antiwrinkle claims. "You can't day a product helps to stop wrinkles or premature aging," said Vaughan. He added that it would be a shame for the industry to lose these claims and once again urged the industry to respond.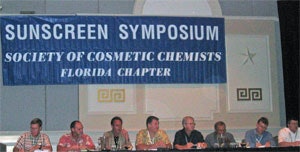 (From L): Chris Vaughan, Dennis Lott, Gavin Greenoak, Craig Weiss, Craig Bonda, Nadim Shaath, Uli Osterwalder and Julian Hewitt.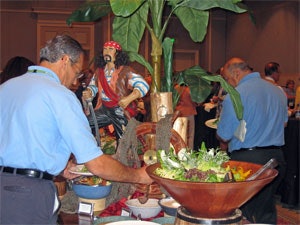 After an interactive Q/A discussion, attendees filed into the exhibit hall to peruse supplier tabletop displays, mingle and take part in the pirate-themed luncheon.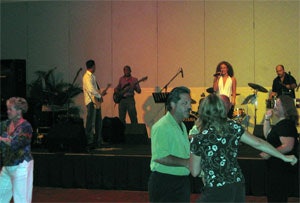 The evening ended with an exotic gala event featuring a Latino-inspired live band and dancers. Dinner stations were rolled out and consisted of fresh salads and rolls, all-American ribs, corn-on-the-cob, baked beans, pan steaks, grilled chicken and more. The dessert table also satiated the sweet tooth with everything from brownies and cookies to pie a la mode. After dinner and conversation, a few brave attendees took to the dance floor to kick up their heels.
---
Sept. 6:
Sept. 6:
Sept. 6:
Sept. 6:
Sept. 6: The first day of the event featured free sunscreen formulating courses. Beyond the buzz around the FDA's decision, attendees were enlightened with everything from the basics of the purpose of sunscreens, to more complex ways to measure sun protection.
Jim SaNogueira of Platex led the first session and described the sun formulator's "tool box" which he said included tools such as actives, photostabilizers, solvents, emulsifiers, waterproofers, rheology modifiers, feel modifiers and others.
He also stressed the importance of understanding the consumer. "Everything starts with knowledge of consumer needs," said SaNogueira. He added that from that starting point, creating a sun formulation also must consider its skin feel, drying time and aesthetics. "If the consumer doesn't like your product, they won't use it."
SaNogueira also raised the question of whether sunscreens need to be graded in levels such as SPF 30, 50, 50+, etc. In his opinion, the answer is yes because as he described it, "it depends what the consumer wants to use it for." For example, if the consumer wants very little protection and desires the appearance of some color, or if they want complete protection and to preserve their skin, the SPF choice will differ. Another interesting point he made was that if a consumer has not been exposed to UV for a few days, they will need a higher level of protection because their skin has built up less of its own defense.
Finally, SaNoguiera discussed how there are differences in percent of UV exposure between products labeled as SPF 15, 30 or 50--based on some fundamental dosing and time exposure assumptions he set up for attendees: "An SPF 15 protects consumers [based on those fundamental assumptions] from 93% of UV radiation; SPF 30, 97%; and SPF 50, 98%. If SPF was the roof over your house and it only protected against 93% of the rain, you'd be unhappy and opt for the SPF of 50 or higher." Although there was some debate regarding the accuracy of these figures, his main point was that those differences may seem small when looking at percentages, but put into a real-life perspective the differences seem greater.
The entire day's sessions welcomed several other speakers, including the afternoon session led by Joe Stanfield. A highlight to the afternoon's session was Gavin Greenoak, of the University of Syndney, who stated tongue-in-cheek that the industry must stop "ultraviolating" people. He presented the idea that it's not about UVA or UVB, but the entire spectrum of UV that the human body absorbs.
In the midst of public concern that sunscreens should protect against both UVA and UVB, he explained that UVA light in itself provides a small amount of protective effect on UVB as the human body absorbs them both. He concluded that in the end, it's not a matter of getting too much UVA or UVB, it's the overall exposure to UV in general.  "Too little or too much is a problem," said Greenoak. He also provided brief details on a study he conducted showing how diet can impact the skin's defenses. In comparing a group of mice allowed to "graze" all day vs. mice limited to a 6 hr-feeding time, the mice allowed to "graze" all day had greatly reduced reaction to UV exposure. In the end he pointed out that there are many variables that can affect the body's reaction to UV.
During the question and answer session, debate rose about whether sunscreens really protect against melanoma. Some felt that logically, using a sunscreen would prevent UV exposure and thus the incidence of melanoma. However, many agreed that it was unclear since there seems to be no compelling evidence to prove it. Other debates arose about whether skin cancer is caused by a few, very high UV exposures or a lifetime of too much exposure built up in skin.
Gary Agism of Wyeth Consumer Healthcare commented that there has been recent evidence that mitochondrial DNA may be an indicator of UVA/UVB damage. Others in the audience noted that sunscreen use and melanoma cases have both risen over recent years, so are sunscreens working? 
Chris Vaughan of SPF Consulting Labs posed a question in regards to simplifying product labeling: "Why has no one come up with a 'percent protection' claim on the label instead of all these other methods?" He added that a percentage level of protection is something consumers can understand and his group has submitted this to the FDA for consideration with the new monograph. Uli Osterwalder of Ciba commented that he felt a ratio would also be understandable.
In closing, Greenoak commented on a study by the Edison Center in Houston, TX, USA showing that the skin has an acid molecule on it that is somewhat similar to LSD and that people actually get a slight "high" from exposure to the sun. Again, he reiterated that moderation is key to sun exposure, and the full spectrum taken at once.
After the day's session, the audience spilled over into the evening's entertainment including a lively cocktail reception sponsored by B&T, and featuring the SCC band.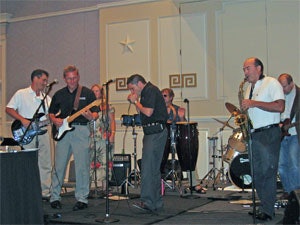 Be sure to visit CosmeticsandToiletries.com for more updates as more of the SCC Florida Sunscreen Symposiums unfolds.