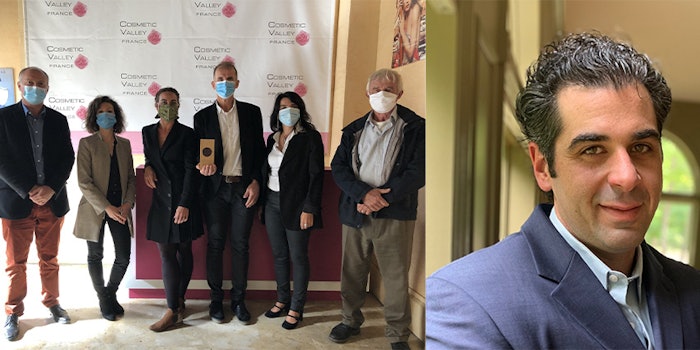 Cosmetic Valley has announced the 2020 Cosmetic Victories Winners. 
Previously: Cosmetic Valley to Announce Cosmetic Victories Winners
The academic prize is awarded to projects from young graduates, doctoral students, post-doctoral students, researchers and scientists. The industry prize is awarded to projects from manufacturers, entrepreneurs, start-ups and innovative SMEs. 
Academic Prize Winner: Synthetic Skin Model
Project: "Non-biological Skin Mode," France
Project initiator: Michel Grisel, University of Le Havre, Normandy
France project initiators said, "The presented non-biological surface was developed with the aim of faithfully reproducing the topological and physico-chemical characte­ristics of the surface of human skin. This synthetic skin model was analyzed and validated by comparison with in vivo and ex vivo skin measurements. It proved to be a perfect model for studying the interactions and properties of raw materials and cosmetic products on human skin. With it, we can easily assess moistness, adherence, spreading, residual film properties, etc., with a high degree of precision and at low cost."
Industry Prize Winner: Custom Cosmetic Process
Project: "ColorForge Additive Manufacturing for Custom Cosmetics," United States
Project initiator: John LaHood, President of ColorForge
John LaHood, project initiator and president of ColorForge said, "ColorForge Custom Cosmetics is a sustainable additive manufacturing process. It is the first patented 3D-printing process that manufactures custom color cosmetics and product casing simultan­eously, sustainably and with scale. No minimums or waste, this technology also makes it possible to manufacture powder-based beauty products in a variety of product categories and various shapes and sizes. The ColorForge manufacturing process delivers a virtually limitless range of vibrant colors, as well as the option of customizing the product and creating unique patterns and gradients."
The 2020 jury, chaired by Marc-Antoine Jamet, president of Cosmetic Valley, awarded the Academic Prize and Industry Prize to the two winners, who notably were in competition among some thirty global projects and teams.