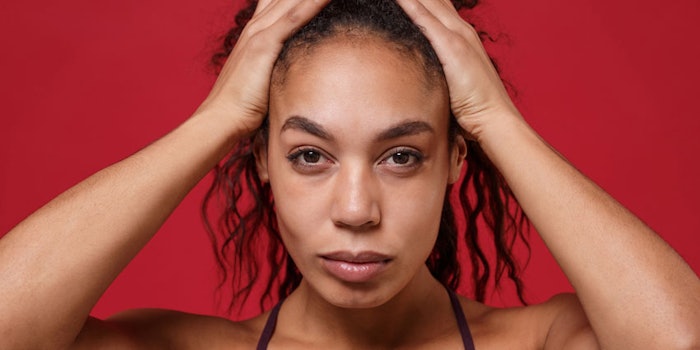 Considering today's 'pandemicking' state, it's no wonder why testing and imaging to prove ingredient safety, as well as efficacy, rose to the top among papers and posters given during the virtual IFSCC 2020 Congress. 
The following winners were presented by Frédéric Leroy, Ph.D., IFSCC Scientific Committee Chair during a virtual awards ceremony.
Basic Research Award
Hair Muscles are Skin's Anti-gravity System, 4D Digital Skin Imaging Reveals
The IFSCC Basic Research Award was presented to Tomonobu Ezure, Ph.D., and co-authors of Shiseido Japan for their presentation, "New Horizon in Skin Care Targeting the Facial-morphology-retaining Dermal 'Dynamic Belt': Revolution in Skin Analysis—4D Digital Skin Technology." As background, Ezure explained it has been unclear how skin resists gravity. As such, this technology was developed, referred to as "4D digital skin," to visualize whole skin dynamics during deformation at a high resolution.
"We observed movement of intact skin using our new micro computed tomography (CT) method, then employed artificial intelligence (AI) and a super computer to analyze the enormous dataset and digitally reconstruct skin dynamics," the authors wrote, in the paper abstract. "This enables us to ... comprehensively analyze skin dynamics in unprecedented ways." 
The method revealed that youthful skin has a resistant area to vertical gravitational deformation where hair muscles (arrector pili muscles) exist, holding skin in place. These hair muscles decrease with age, which results in skin deformation and sagging. From this, the team regenerated hair muscles and confirmed that a stem cell-based regenerative approach improved sagging in volunteers.
"The discovery of the dermal dynamic 'belt' is a breakthrough in skin care, leading to novel anti-gravity skin care...for facial rejuvenation by targeting the skin's anti-gravity system itself. Thus, we believe our technology and discovery open up a new horizon in skin care," the authors concluded.
Applied Research Award
Vascularized Full-thickness Skin Model Supports Absorption, Efficacy and Safety Evaluations 
Sacha Salameh, Ph.D., et al., of L'Oréal France, received the IFSCC Applied Research Award for their paper, "A Perfusable Vascularized Full-thickness Skin Model for Topical and Systemic Applications." The aim of this work was to develop a perfusable, vascularized, full-thickness skin equivalent test model with more complex vasculature than existing models.
The authors combined molding, auto-assembly and microfluidics to produce a skin equivalent that replicates a properly differentiated epidermis, complete with said vascular networks. Skin permeability tests were then conducted using benzo[a]pyrene as a pollutant, which showed that uptake by the vascular network gave a predictive and reliable model. The resulting model is aimed at furthering drug discovery and improving clinical translation in dermatology.
"We proved that having a perfusable vasculature closer to the in vivo vascular plexus resulted in more reliable model for topical and systemic assessments," the authors wrote. They added that here, systemic delivery of compounds and transdermal absorption were evaluated. "However, a broad range of applications is possible either for skin knowledge studies or efficacy and safety evaluations," they concluded.
Poster Award
High-throughput Olfactory Receptor Assay Uncovers Fragrance Antagonists of Malodor
The IFSCC Poster Award went to Hisashi Mihara, et al., of Takasago International Corp., for the poster entitled: "How Can We Control Unpleasant Body Malodor Effectively? Development of Novel Fragrances Using the Olfactory Receptor Technology." According to these authors, common approaches to reduce malodor use chemical deodorizers and fragrances having masking effects. In relation, the olfactory receptor (OR) assay technique has gained interest as it supports high-throughput screening for effective masking agents.
The present work utilized this technique to identify compounds that suppress both aging and sweat malodors. First, OR receptors were tested for their responsiveness to four key malodor compounds—(E)-2-nonenal, (E)-2-octenal, 1-octen-3-one and 1,5-octadien-3-one. One in particular, the OR2C1 receptor, responded to them all. From this, masking agents were screened for their potential to inhibit the OR2C1 receptor and, in turn, reduce malodor.
Several antagonist fragrance materials were identified that act on this receptor, significantly suppressing malodor strength. This effect was verified in experiments using fragrances containing the antagonists.
Honorable Mentions
In addition to the awarded poster, the following made it to the top ten finalist list.
"Prediction of Skin aging by Autofluorescent Substances" by Wenjuan Zhang, et al., of Shanghai Pechoin Daily Chemical Co., Ltd.;
"Senolysis, A Cutting-edge Strategy for Healthy Akin Aging, is Activated by Althaea Rosea Stem Cells," by David Manzano, Ph.D., et al., of Provital Group;
"How Does Sensitive Skin Age? Possible Mechanism Based on What Skin Cells are Really Communicating," by Mami Yokota, Ph.D., et al.; FANCL Corp., Kitasato University School of Medicine and Kitasato University;
"Metabolomics, the Cornerstone Between Microbiome and Skin Functions to Understand Pollution-mediated Effects," by Namita Misra, Ph.D.; L'Oréal SA France and City University of Hong Kong;
"Autophagy: Sustainable Self-Renewal System to Combat Skin Aging," by Daiki Murase, Ph.D., et al.; Kao Corp. and Osaka University;
"Biocompatible Nanocomposite of Layered Double Hydroxide Nanosheet and Chitosan Biopolymer for Cosmetic Applications," by Jong Hyeon Lee, Ph.D., et al.; the Catholic University of Korea and H&A PharmaChem R&D Center;
"High Frequency Ultrasound Study of the Skin of Women Between 50 and 60 Years Old," by Gislaine Ricci Leonardi, Ph.D., et al., of University of Campinas, São Paulo;
"How to Gain Deeper Insights During an Application of an Unscented Emulsion for Sensitive Skin into Expressed Facial Emotions Based on Artificial Intelligence?" by Patrice Bellon, Ph.D., et al.; Cosmetoscent, Cerco and Yves-Rocher; and
"Real-Life Face-Video System: Capturing and Analyzing Complex Color and Shine Effects," by Mehdi Doumi, et al., of L'Oréal Reseach and Innovation Center, USA.