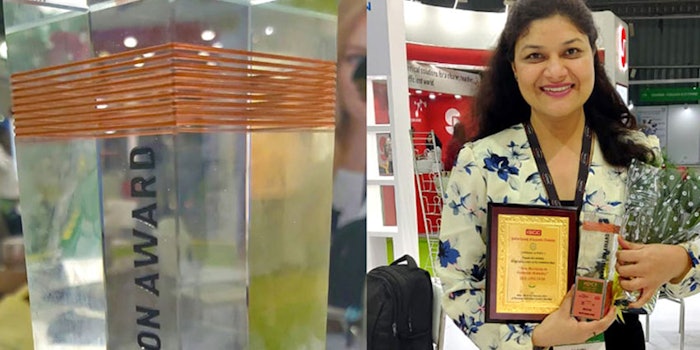 INOLEX took home the Innovation Award for its AminoSensyl Amino Lipid Platform of 100% natural, quat-free conditioning ingredients during the Home and Personal Care Ingredients (HPCI) Exhibition and Conference in Mumbai, India.
Previously: INOLEX Fully Transitions to RSPO Mass Balance Certified Material
The HPCI Innovation Zone Best Ingredient Awards recognizes outstanding innovations from the cosmetics, detergents/cleansers and perfume industries in the development of novel active or functional ingredients.
Evaluated on numerous criteria by a panel of distinguished industry experts, products must be newly launched within six months of the show and demonstrate improvement/advantage over current options.
Products are rated in areas such as relevance to consumers, superior level of innovation, market potential, implementation feasibility and implementation cost.
Launched in 2019, INOLEX's patented AminoSensyl platform (INCI: Brassica Alcohol (and) Brassicyl Valinate Esylate (and, optionally) Brassica Glycerides) continues to be the only source of 100% natural and cationic (quat-free) conditioning agents in the market.
The portfolio includes AminoSensyl HC for hair care and AminoSensyl SC for skin care, both amino acid-based, high performance systems that are eco-friendly, derived from renewable feedstock and designed using the Principles of Green Chemistry. Each product is optimized for its respective category and ideal for the natural products marketplace.
The systems offer the benefits of being petrochemical-free; palm-free; quat-free, readily biodegradable (OECD 301B); non-GMO; free from animal testing; and USDA-Certified Biobased, COSMOS and NSF/ANSI 305 approved.
"We are thrilled for the opportunity to share these sustainable and high-performance technologies with the beauty care industry," Puja Agarwal, INOLEX regional business director, South Asia, SEA, Oceania and Japan, said. "The response from our customers and partners across Asia has been incredible, from the eco-friendly design of these products, to the ease and simplification that our amino lipid technology brings to formulations."
Agarwal continued, "We view AminoSensyl as trend-shifting the conditioning category to more sustainable consumer options. We are grateful to Pharmacos India, the Indian Society of Cosmetic Chemists (ISCC), and HPCI India for supporting the mainstay of innovation that continues to define INOLEX ingredients."
For more information, contact INOLEX.