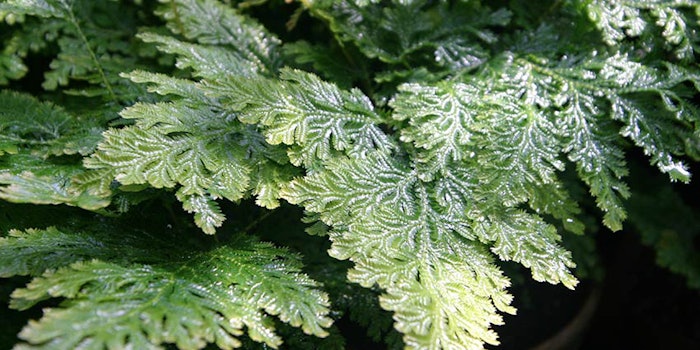 Naturex will present Hydranellys, a new natural ingredient for skin hydration, and Bucovia, an oral care ingredient, at in-cosmetics Global 2018.
Hydranellys is derived from selaginella, known in China as the "resurrection plant" for its ability to survive droughts, which is often used in traditional Chinese medicine. The plant curls in on itself during droughts but recovers at the first drops of water.
Hydranellys harnesses this capability to hydrate skin, treating the hydrolipidic protective film that covers the entire surface and strengthening the stratum corneum, the outermost layer of the epidermis. It helps dry skin recover by maintaining its lipid balance and retaining moisture.
The ingredient is obtained through the application of Naturex Eutectys technology, which uses NaDES mimetic solvents to maximize selaginella's power. In vitro genomic tests on the structuration of the stratum corneum and has measured ex vivo the increase of epidermal lipids and clinical studies have shown that after the application of 3% Hydranellys cream, transepidermal water loss was reduced both short and long-term.
Additionally, Naturex will present Bucovia, a natural bio-guided fractionated active that supports mouth health. Composed of active compounds from Solidago virgaurea (a European plant with properties that help control the growth of mixed fungal-bacterial biofilms), Bucovia reduced the load of Candida albicans by 98%, and total bacterial load by 29% in a double-blind clinical study. Additionally, participants experienced a reduction in several bacteria associated with issues including gingivitis and adult periodontitis and reported experiencing a clean feeling for longer in the mouth.
Naturex will be located at booth C80 during in-cosmetics Global 2018, held April 17-19 in Amsterdam.