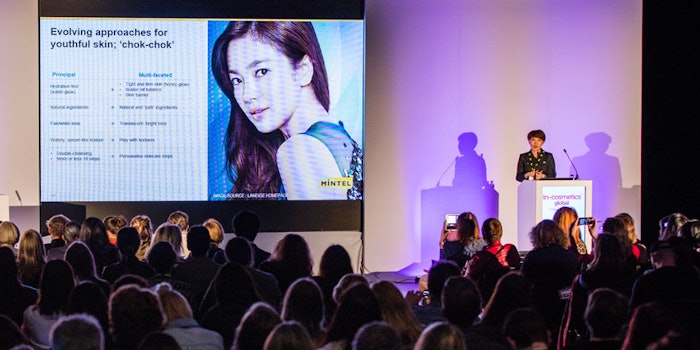 Change is the only constant and in-cosmetics has been at the forefront of it for cosmetics R&D since the event's inception 27 years ago. As such, new faces and features at the next installment, to be held April 17–19, 2018, in Amsterdam should not come as a surprise but rather, a delight.
Sun Care Workshop
Skin and the electromagnetic spectrum will be the focus of a workshop moderated by Karl Lintner, Ph.D., president of KAL'Idées. Mathias Rohr, Ph.D., will join this track to speak on non-invasive in vivo SPF testing via hybrid diffuse reflectance spectroscopy (HRDS). Additional experts will join the panel to examine the big questions in the industry, such as "what's new in radiation protection?" and, "is regulatory action needed for blue light and infrared claims?"
Latin Beauty and Fast Formulating
Speaking for the first time at in-cosmetics, Emma Fric, head of Research & Future Insight at PeclersParis, will give a Marketing Trends session on the Latin American beauty landscape. In her presentation, she will cover socio-cultural and beauty trends that will impact beauty businesses and shape consumer desires in the next few years.
Also, Paula Cardoso, head of Innovation Acceleration at Bloomoon, will present a Marketing Trends session on "the acceleration factor" for innovation in the beauty industry, alongside colleague Houda Lazaar, Innovation Business Developer. Cosmetic companies face many challenges, both when innovating quickly and on a long-term basis; this session examines them.
Indie Brands Round Table
A highly anticipated round table in the Marketing Trends Theatre will discuss: Are indie brands still worth the hype? This session will feature new speakers, including Camilla Marcus-Dew, cofounder of the ethical luxury personal care brand The Soap Co, and Zeze Oriaikhi-Sao, founder of the South African luxury fragrance, bath and body care range Malée Natural Science. Joining the discussion is Nick Vaus, partner and creative director at the brand design consultancy DewGibbons + Partners.
New Floor Features
Beyond the expanded educational program, in-cosmetics Global will present several new concepts on and around the show floor for 2018, including:
A series of "silent" R&D tours, sponsored by Mibelle Biochemistry and Novacap, focused on biotechnology actives and the future of anti-aging;
A half-day Regulatory Conference in partnership with Conusbat on April 16, covering crucial regulations;
A highly anticipated Formulation Challenge on April 19, sponsored by Croda, where six leading manufacturers compete to create a formulation in 90 min from a mystery box of raw materials; and
Boost Your Test, an interactive area spotlighting human, in vitro testing and high-tech testing within the categories of anti-pollution, microbiome and anti-aging, in partnership with Skinobs.
Broaden your knowledge of the cosmetics market and keep up with the hottest trends and innovations at in-cosmetics this April. For more information, visit the event website.