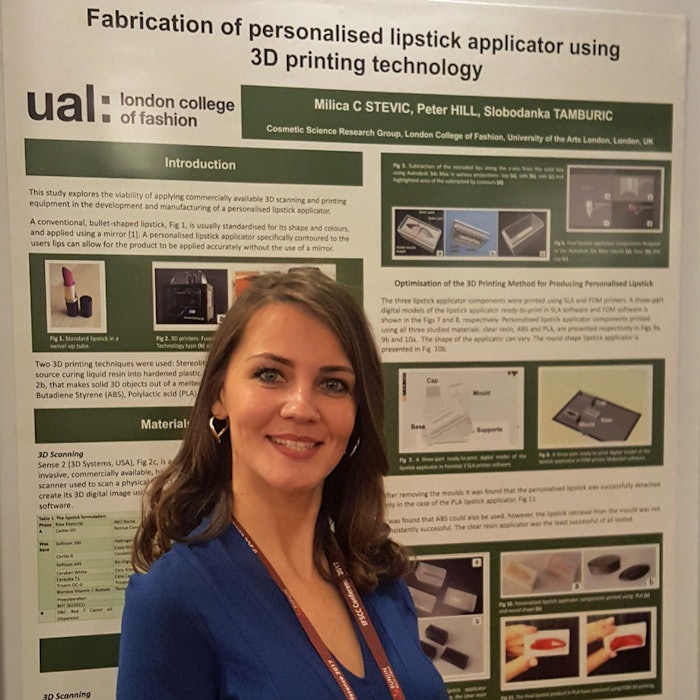 (continued from Day One coverage)
Formulation optimization and technology tweaks filled the remainder of Day One conference sessions at IFSCC in Seoul. However, a notable trend in lipstick formulation work stood out among the papers presented; it was also highlighted in one innovative poster. Furthermore, a novel model to test hair for effects of environmental pollution was proposed.
Innovation and Transformation
Late morning sessions began with a focus on "Innovation and Conversion," moderated by Chang Seo Park, Dongguk University, Republic of Korea, and Yoshikuni Yamamato, Yamamoto Perfumery Co., Ltd., Japan. They welcomed keynote presenter Qiang Xia, Ph.D., of Southeast University, China, who spoke on "Research, Evaluation and Industrialization of Active Substance Delivery Systems." Following Xia was Gaetono Distefano, of Intercos SPA, Italy), who introduced a new hybrid of cosmetic ingredients aligned with the concept of "Silicones Meet Bioplastics."
Ryuta Azuma, of Kose Corp., Japan, next described how lipsticks tend to cloud and lose their vibrancy during wear. He proposed a way to "transform your favorite lipstick" so that it lasts longer. "The aim of the study was to maintain the initial impression of the lipstick so it does not change over time," Azuma said.
He achieved this by applying an overcoat of a new oil-repellent oil (see Figure 1). The new solution was shown to maintain color vibrancy while also preventing color transfer (see Figure 2). "We think our technology can turn anyone's favorite lipstick into a long-lasting product without affecting the original color or texture," he said.
Michel Grisel, of Urcom Normandie Université, France, next explored how to control the structure and sensory perception of cosmetic emulsions based on ingredient selection. He focused on the physico-chemical properties of spreadability in relation to emollience sensation. "The three main properties affecting spreadability, and therefore emollience, were identified as viscosity, surface tension and density," he concluded.
Finally, Jun Bae Lee, of Cosmax Research and Innovation Center, Republic of Korea, wrapped up the morning session with a talk on accelerated delivery to improve the efficacy of cosmeceuticals.
Market Disrupter? Lips in 3D
During the lunch break, attendees had the opportunity to visit exhibitors and poster presentations, which is where an innovative technique to scan an individual's lips and employ 3D printing to create a customized lipstick was introduced by Milica Stevic, of the London College of Fashion, University of the Arts London. In an overview of her poster (see Figure 4), she explained "We used commercially available 3D scanning and printing equipment to create lipstick in a new, personalized shape that imprints exactly to the user's lips without the need for a mirror."
Lips are scanned in 3D to create a personalized digital image via software, which is then used to print molds, also in 3D. A lipstick formula is then poured into the mold, to which a cap is applied with protruding structural supports to embed as the base for the final "stamp." Once cooled, the lipstick formula is removed, now mounted on the base, and a new cap is applied to protect the product between uses.
This approach to lipstick application could become a market disrupter, rewriting the term lipstick altogether and doing it in a completely personalized way.
Categorical Conclusions
The afternoon session focused on a mix of categories, ranging from color cosmetics and hair care, to the skin barrier. Leading the session were moderators Jin Woong Kim, Hanyang University, Republic of Korea, and Emanuele Piras, Milan. The keynote lecture was presented by Chang Seo Park, Ph.D., of Donggkuk University, Republic of Korea. He discussed phytosphingosine and its derived ceramides, which have versatile roles in the "brick and mortar" stratum corneum model.
Next up was Manuel Gamez, of Ashland Specialty Ingredients, USA, who described how to strengthen and repair the cortex of hair holistically via an inside-out and outside-in approach. He explained this strategy comprises the use of hydroxypropylgluconamide (and) hydroxypropylammonium gluconate, along with a micro gel polyelectrolyte complex of PQ-28 and PVM/MA. "This strategy is effective because both molecules work by stopping crack propogation throughout the entire hair fiber."
Following Gamez, Zhi Rao, of BASF China, spoke on a model to simulate city pollution in hair, to study its effects. The model combined exhaust with UV exposure in a chamber, to which hair samples could be introduced. The research also focused on polymer solutions to protect hair from damage. Interestingly, a synergistic effect betweem UV and exhaust emissions was implicated.
Research to improve lipstick effects emerged again, this time with Emiko Hayashi, of Iwase Cosfa Co., who presented work conducted with Tokyo University of Technology and Daicel Corporation, of Japan. She elaborated on two issues that cause dispersion problems for pigments in lipsticks: the use of high-gloss oils and durable technologies. Her solution was a propanediol-amide type silicone polymer to improve pigment dispersion without reducing gloss or durability of color in lipstick (see Figure 3).
Ending the day's session was Jieun Woo, of Kolmar Korea Co., Republic of Korea, who described a correlation study of waterproofing effects according to mascara evaluation methods. Using in vitro and clinical methods, she and co-researchers found little correlation between the two methods. She also observed that according to waterproof ingredient content, "weight" was the most sensitive evaluation index for both in vitro and clinical assessments.
Stay tuned as we bring you more insight from Day Two of the IFSCC Conference.