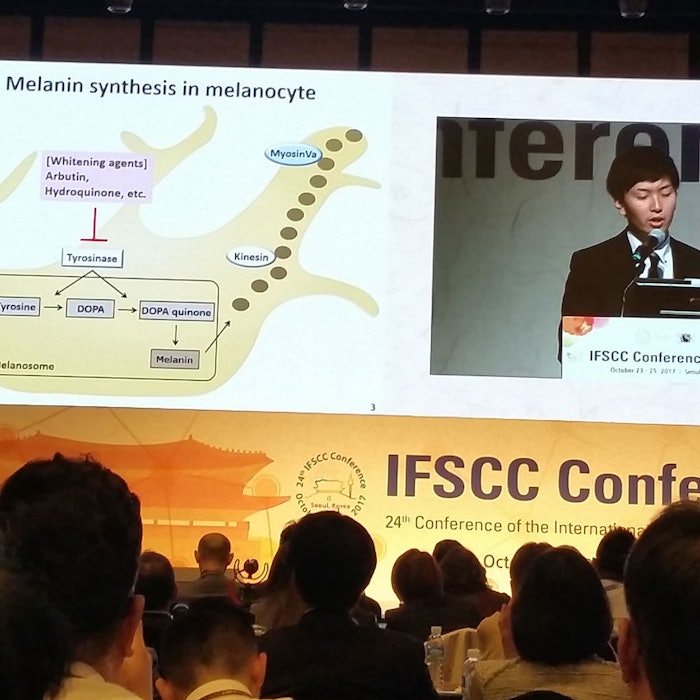 The IFSCC Korea Conference was heavy with skin biology research, as evidenced by two days of tracks on this topic. Day one's session on biology was initiated by moderators Minsoo Noh, of Seoul National University, and Jürgen Lademann, of Charité–Universitätsmedizin, Berlin. They welcomed keynote speaker Nava Dayan, Ph.D., whose opening lecture considered using the skin's microbiome in cosmetic product development. According to Dayan, activities in the skin can be manipulated by choreographing interactions between innate microbiota and the body's epigenome; although much work remains.
Sabine Pain, of BASF France, presented work with co-authors of CITIBIOTECH, France, on a 3D human ex vivo sebaceous gland model to study skin lipid metabolism dynamics. "We focused on this area due to the lack of accurate models to induce differentiation and proliferation of the sebocytes," she explained. Their work successfully isolated sebocyte cells and could amplify them for a successful approach to maintain sebocyte integrity for eventual testing of actives.
Eun Bi Ko, of AmorePacific, shared hers and others' work in conjunction with Theragen Etex, of the Republic of Korea. She opened with the question: "Do you think DNA can predict what you will look like?" The answer was yes, to some extent, which she illustrated through a study of genotype-phenotype interaction analyses of skin properties observed via genome-wide association studies in 411 Korean females.
All variations in phenotype were related, in a complex way, through mechanisms of wrinkles and pigmentation.
"We focused on single nucleotide polymorphisms (SNPs) and identified 900,000+ SNPs that correlated with phenotypes. We then grouped them into common clusters, resulting in four primary areas: wrinkles, hemoglobin, melanin and moisture." As it turned out, all variations in phenotype were related, albeit in a complex way, through two clusters: wrinkles and pigmentation. These underlying mechanisms could become future targets for cosmetic and dermocosmetic work.
Vania Rodrigues Leite-Silva, of FACAMP Brazil, shared hers and colleagues' work in conjunction with Perception/Flyfrog, looking to neuroscience as a tool to link cosmetics with wellness. Finally, rounding out the morning session, Yushi Katsuyama, of Seiwa Kasei Co., Japan presented work coducted with the Tokyo University of Technology exploring the interference of intracellular melanosome transport via autophagy to improve pigmented spots.
Stay tuned for further updates from the conference.