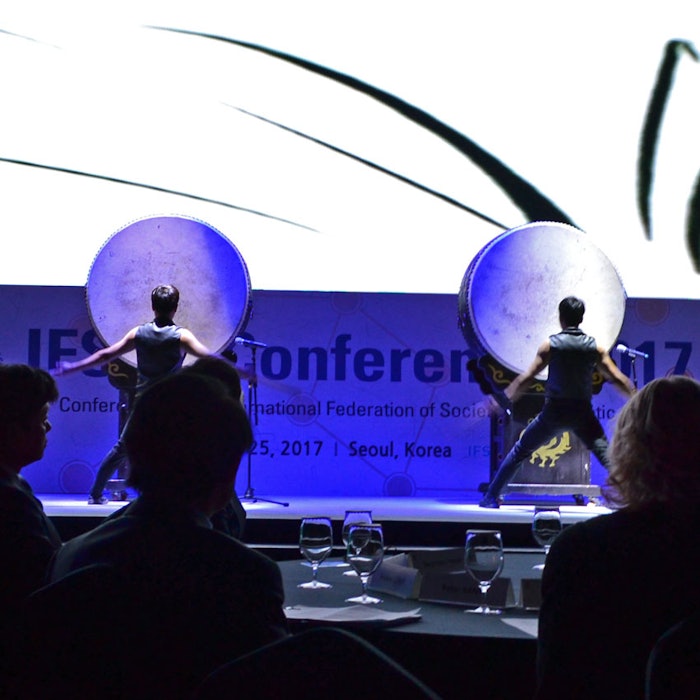 "The cosmetic science industry in Asia and especially Korea has been growing tremendously and spreading worldwide, with constant advances in cosmetic research and technology," said Soo Nam Park, honorary president of the IFSCC 2017 Conference Organizing Committee, during the opening ceremony. "Reflecting on this invigorating growth, we have chosen the Conference theme of: "Cosmetic Science: Beauty, Convergence and Creativity."
Indeed, the IFSCC 2017 showcased this creativity by kicking off with a traditional Korean drum performance. Opening remarks followed, led by Park, after which Korean SCC present Sang Kyung-Bae thanked attendees for coming from all over the world to Korea. 
"The cosmetics industry is not immune to change, and this is an exciting and competitive time," said Kyung-Bae. "It is my belief that beauty is a gift that can transform the world," he added.
Amy Wyatt, outgoing president (2016-2017) of the IFSCC also welcomed attendees, sharing some basic IFSCC facts:
It started in 1959;
It includes some 16,000 members (half of which registered to attend this event); 
A total 48 regional societies comprise the greater IFSCC; and
Membership extends across 74 countries around the world.
"It is my belief that beauty is a gift that can transform the world."
-Sang Kyung-Bae
Peter Hakhee Kang, president of the organizing committee, shared his deepest appreciation for all those who support the IFSCC. After Kang, the new 2017-2018 IFSCC Praesidium was introduced.
Recognizing up-and-coming scientists, the Maison G. DeNavarre Young Scientist Award was presented to Fransizka Wandrey, Ph.D., of Mibelle Biochemistry, by Philippe Auderset and Amy Wyatt. 
Finally, Sang Chul Park, M.D., Ph.D., chair professor of the Well Aging Research Center at DGIST presented the plenary lecture on "Challenge to Irreversibility: Aging Revolution." He shared mankind's history of fighting aging and new ideas to continue the trend.
"Myth becomes mystery, which becomes mechanism," he said, showing the progression of advances toward anti-aging efficacy. He added that he believes new work is proving that aging can be controlled; ROCK-1 activity in senescent cells, for example.
The opening ceremony ended with a networking reception, where colleagues mingled and reunited. Many anticipate some exciting, high-level science in the days to come. Follow Cosmetics & Toiletries as we bring it to you.